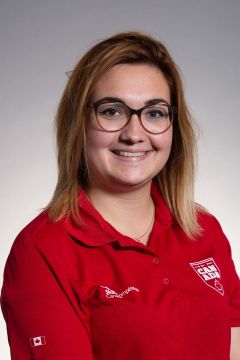 Skill: Hairstyling
School: Centre de formation Rimouski-Neigette
Employer: Est-ce qu'on te coiffe?
Hometown: Rimouski, QC
Age: 19
Biography
I always knew that I wanted to do manual and technical work. I chose hairstyling, in particular, because I really enjoy the creative and artistic side of this trade. I would love to have my own hairstyling business someday.
I first got involved in the competitions because one of my teachers said she thought I had the potential to succeed. Thanks to her, I enjoyed the provincial competition experience. She believed in my ability and my talent and she inspired me throughout my training.
Interesting Fact
Music is another one of my passions and I work part-time as a DJ.
Essential Skills
During my training for competitions, the Essential Skills that were most important to me were working with others and oral communication. These skills ensure a pleasant work environment and allow me to identify problems and challenges and to discuss possible solutions with my team. Continuous learning is another very important skill for hairstylists because styles and techniques are constantly changing.