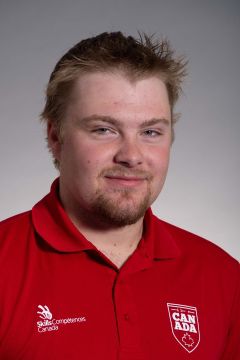 Skill: Plumbing and Heating
School: Assiniboine Community College
Employer: Don's Plumbing and Heating
Hometown: Weyburn, SK
Age: 19
Biography
I chose a trade because I love hands-on work and seeing projects to completion. I chose plumbing because I was offered a job in this industry and I ended up enjoying it. My career goal is to become a journeyman plumber.
I got involved in skills competitions through my high school machining teacher who took me to the Skills Saskatchewan provincial competition. This qualified me to compete at the Skills Canada National Competition and now hopefully the WorldSkills Competition.
Interesting Fact
My dad, who is a journeyman autobody technician, is my biggest inspiration because when I was growing up he taught me that it doesn't matter what you do or how you do it as long as you do your best. That will allow you to be successful.
Essential Skills
Numeracy has been an Essential Skill used in my training process and during the competition because it maximizes my efficiency. Accurate calculations prevent me from making errors. Continuous learning is also an important skill because there are aspects of the trade that are always changing and you have to stay up to date to be successful.