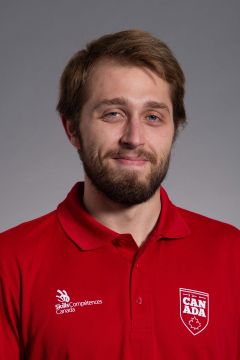 Skill: Electrical Installations
School:
Employer:
Hometown: Red Deer, AB
Age: 21
Biography
I chose to pursue a career in the skilled trades because I wanted to have a job where I could work with my hands while still being challenged by constantly learning and trying new things. My main career goal is to obtain my journeyman ticket by the end of 2019. Eventually I would like to become a master electrician.
I became involved in skills competitions when I was in grade 11 and one of my instructors invited me to train and compete in electrical installations.
Interesting Fact
My biggest inspiration is my dad. He is always looking to better himself, learn new things and help others. He works hard for everything that he has, and I admire and respect that.
Essential Skills
I find that oral communication is very important for my training. Most of our instructions and feedback are provided verbally so being able to interpret properly what is being said makes a huge difference in how much you get out of your training. As an electrician, numeracyis also very important. The amount of measurements and calculations you do on a daily basis makes this Essential Skill crucial.