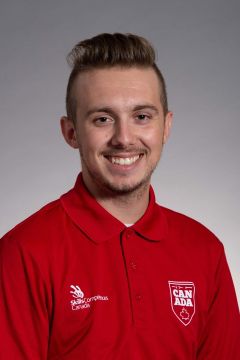 Skill:  Autobody Repair
School: Vancouver Community College
Employer: No.1 collision
Hometown: Burnaby, BC
Age: 21
Biography
I grew up being around cars and I started working on them at a young age. I feel very accomplished when I am able to repair a vehicle by problem solving and working hard physically and mentally. So pursuing a career in autobody repair was an easy choice.
My goal is to be a top technician in my field. I would also like to get factory specialty training and become certified.
I became involved in skills competitions when I was in grade 12, doing my first year of pre apprenticeship.
Interesting Fact
My biggest inspiration is my brother. He is a Red Seal mechanic and very good at it. He can focus on very fine details and is able to diagnose problems easily, simply by slowing down and working step by step.
Essential Skills
I believe continuous learning is an important Essential Skill for my trade because everything is evolving so quickly, we have to adapt on a regular basis. Oral communication is another important skill. In a body shop there are lots of moving parts including bodymen, painters, parts person and estimators. Having good communication amongst colleagues can change the work flow as well as the shop morale. I find that it is easier working as a team then working by myself.