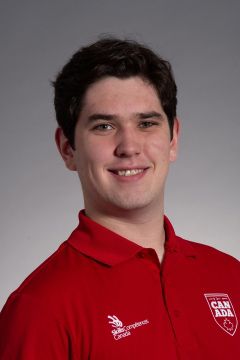 Skill: CNC Milling
School: Saskatchewan Polytechnic, Regina Campus
Employer: N/A
Hometown: Regina, SK
Age: 20
Biography
In high school, I realized I wanted to work with my hands. At first I wanted to specialize in gunsmithing but instead I decided to chose a more general field and take machining. I instantly loved it! I love the challenge of figuring out how to efficiently and accurately make parts to tight tolerances and I am always thinking of ways to make processes faster.
I would eventually like to open my own shop, specializing in CNC machining technology, especially in CAD/CAM processes. I would like to get involved in gunsmithing too, as I think many processes in that trade are similar to those in machining and can be modernized. I got involved with skills competitions through my machining instructor at SaskPolytech.
Interesting Fact
During my spare time, I play the saxophone and I used to play in a reggae band.
Essential Skills
I think there are many Essential Skills that have been instrumental to my training. however I think working with others has been quite important. I typically rain alongside a classmate and we bounce ideas off of each other as well as catch each other's mistakes.