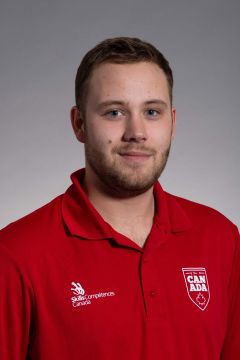 Skill: Bricklaying
School: Southern Alberta Institute of Technology (SAIT)
Employer: Scorpio Masonry
Hometown: Spruce Grove, AB
Age: 21
Biography
I chose a skilled trade career because it allowed me to make money while getting course credits for school, and I've always enjoyed working outdoors. Also, I feel that it's a good choice as there will continue to be a demand for bricklayers. I would like to eventually specialize in restoration work.
I got involved in Skills Competitions through my instructor at the Southern Alberta Institute of Technology and I'm now training for a chance to compete in the world's largest skills competition!
Interesting Fact
My biggest inspirations are my grandfather Stu and my father Todd as they have shown me how important it is to work hard to be successful. They have also taught me to continue learning and developing my skills.
Essential Skills
To be successful in the bricklaying trade I feel that readingis a crucial Essential Skill to master because you have to be able to read and understand blueprints to do your job properly. Oral communication is also very important for this trade as you are constantly communicating with others.