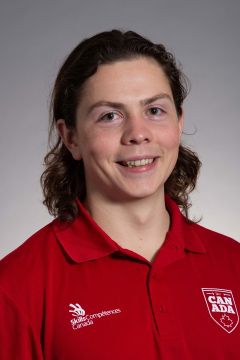 Skill: Welding
School: Red Deer College
Employer: Integral Incorporated
Hometown: Clive, AB
Age:20
Biography
My father has a welding and fabrication shop so I grew up familiar with this trade, however I never considered it as a career possibility until after graduating high school. At this time, I began working at the shop and decided to start an apprenticeship shortly after. I enjoy working with my hands and using fire and electricity to create things.In the future, I would like to have the opportunity to work in a shop that takes on a variety of projects so that I can be challenged and learn something new often.
I started my skills journey as a first year apprentice when I met with my coach for the first time and learned what the competition was all about. I was eager to compete.
Interesting Fact
My father is probably my biggest inspiration. When I was young he would sometimes take my brother and I into the shop in the evenings and help us make things, from swords to catapults. It always fascinated me how he could make these awesome projects out of the simplest raw materials.
Essential Skills
Continuous learning has been crucial in preparing for skills competitions. I have spent countless hours trying new settings and different techniques to produce the desired results. Critical thinking is probably the most important skill for me to improve as there are an infinite number of ways to do things and no job is exactly the same. When things go wrong during the competition, you have to be able to troubleshoot and solve the problem.