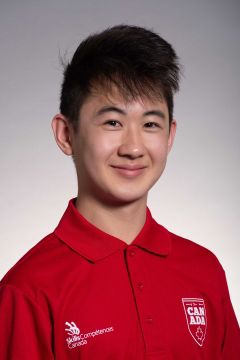 Skill: Fashion Technology
School: Eric Hamber Secondary
Employer: N/A
Hometown: Vancouver, BC
Age: 18
Biography
I chose to pursue a career in fashion technology because I like to work with my hands and I find it very satisfying to see the end result when I am done a project.My career goals are to be successful and knowledgeable in this field.
I got involved with skills competitions through my high school courses. I'm looking forward to working hard and learning a lot during my training, to hopefully become a part of WorldSkills Team Canada 2019 and compete at WorldSkills Kazan 2019 against the best in the world.
Interesting Fact
My biggest inspiration is Elon Musk, an American entrepreneur, inventor and investor who is best known for his role as CEO of electric-car manufacturer Tesla Motors. He has broken norms and changed the world through hard work and determination when the odds were stacked against him.
Essential Skills
Numeracy is an instrumental Essential Skill in fashion technology, as drafting a pattern and constructing a garment takes precise calculations. The smallest error in calculations can make a huge difference. Thinking is also very important to allow for a fast and efficient way of executing the tasks at hand.