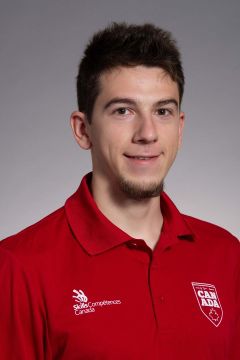 Skill: Mechanical Engineering CAD
School: L'école des métiers du Sud-Ouest-de-Montréal
Employer: Bridor
Hometown: Brossard, QC
Age: 21
Biography
The reason I decided to pursue a career in the trades is very simple: I had had enough of sitting behind a desk and I wanted to make something with my hands. At first, I wanted to become a deep-sea diver. Since there was a quota system for that program, I chose welding-mounting and I liked the program so much that I never went back to diving. My objective is to become a good mechanic and to learn as much as possible about my trade.
One of my teachers told me that all the other teachers agreed that I should take part in the provincial competition, and I gladly accepted the offer.
Interesting Fact
In the summer I go scuba diving nearly every weekend in Quebec and Ontario, and my objective for next year is to get a dry suit so I can dive under the ice in winter. I'm really passionate about scuba diving.
Essential Skills
I believe I have excellent problem-solving skills, and I think that is what enabled me to win a gold medal at the Compétences Québec provincial competition and a bronze medal at the Skills Canada National Competition. That skill was most useful to me in pneumatic work because pneumatic is all pure logic and problem solving, and that is where I picked up most of my points.