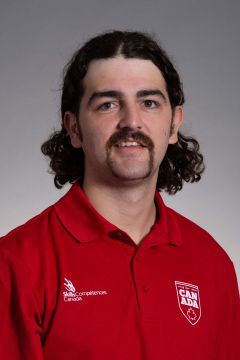 Skill: CNC Turning
School: Georgian College Barrie Campus
Employer: Tools In Motion
Hometown: Penetang, ON
Age: 19
Biography
I've always liked building things such as Legos and models. When I got older I worked for my dad who owns a CNC machining shop and everything clicked into place. I love the idea of being able to make anything in the world on a CNC machine, it's pretty cool! My career goal is to be the best that I can possibly be. If I achive this, the money and recognition will follow.
A teacher at my school who noticed my interest and skills in CNC machining asked me to participate at a skills competition. I really didn't know much about it but once I did some research and asked questions, I really wanted to be a part of this competition.
Interesting Fact
In my spare time, I play several sports such as hockey, baseball and golf.
Essential Skills
Continuous learning and working with others are the two most important Essential Skills for my trade. This is an ever changing trade and you need to learn as much as you can to be successful at the competition. Also, working with others allows me to achieve better results and learning from coworkers helps me to improve my performance.