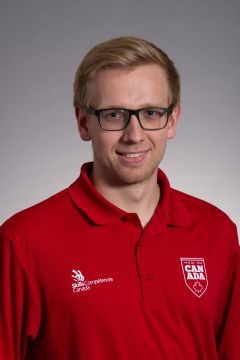 Skill: Aerospace Technology
School: Saskatchewan Indian Institute of Technologies
Employer: Mustang Helicopters Inc.
Hometown: Saskatoon, SK
Age:21
Biography
I chose to work in a trade because I like to put things together and work hands on. I chose aerospace technology because I've always had an interest in aviation. I would like to obtain my full aircraft maintenance engineer licence and get type certified on a variety of aircrafts to learn more about the different styles of aircrafts.
I got involved in skills competitions when our school took us on a trip to the Stars air ambulance base in my hometown. One of the AME's and Skills Canada Alumni, Ryan Gillis, spoke to us about Skills/Compétences Canada, where it can take you and what is involved, and it caught my interest.
Interesting Fact
I make mean homemade waffles!
Essential Skills
Reading text is probably the most important skill during the competitions because almost everything in the aviation world comes from a manual that you need to be able to read and understand, then apply. I think that continuous learning is also something that everyone should focus on, especially in my trade, because it is impossible to know everything about aviation, so you are constantly learning.