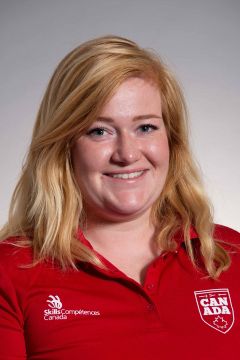 Skill: Landscape Gardening
School: Olds College
Employer: Harmony Landscapes Inc.
Hometown: Chestermere, AB
Age: 21
Biography
I attended university because it was "the thing to do", the only real choice for students with good grades, or so I thought. I eventually decided to quit university to go work in a field I love. I want to spread the joys of horticulture with as many people as possible. Plants are wonderful and working with them and creating outdoor living spaces from which to appreciate them is something I truly enjoy.
I got involved in skills competitions through Olds College when they were searching for a competitor. When I realized what a great experience participating would be, I decided to go for it.
Interesting Fact
My biggest inspiration is my previous boss Jason Tonks, the superintendent of The Canal at Delacour Golf Course. His work ethic and levelheadedness is something I try to embody in my work. He is mentally and physically capable of handling whatever life throws at him, and his hard work and dedication are inspiring.
Essential Skills
I think in landscaping it is so important to develop and improve thinking and problem- solving skills. You can come up with a flawless plan on paper but executing it in the real world with a dynamic team and changing weather, among other things, is really the hardest part of the job.