WorldSkills General Assembly Leaders Forum: Future Talent Show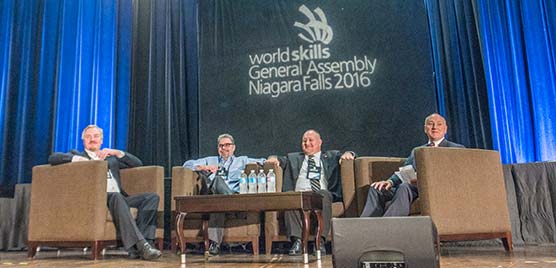 Attendees at The WorldSkills General Assembly Leaders Forum were given the opportunity to hear from industry, government and youth, on the future of construction training.
Against the stunning backdrop of Niagara Falls, Canada, a selection of influential industry experts, including Volvo CE's very own Chuck Wood, vice president of human resource management and administration, shared their perspectives on developing future education and training.
On Oct. 4, SkillsUSA and Skills/Compétences Canada jointly hosted the World Skills Forum. Volvo CE partnered with both organizations earlier this year to raise awareness of the need for workforce development.
"We are thrilled that Volvo is partnering with us to encourage young people to work in the construction industry, especially at a time when there's a growing skills gap due to biases against technical careers and trade schools," said Timothy W. Lawrence, executive director, SkillsUSA.
Keynote speakers
Three keynote speakers led panels throughout the day. Professor Pavel Luksha, from the Moscow School of Management SKOLKOVO, spoke about how transformative technologies are changing the nature of jobs to more custom designs and human relationships, which underlines the importance of employability skills.
Dr. Lori Foster, professor of industrial-organizational psychology at North Carolina State University and the University of Cape Town, explained that skills development is essential to sustainable development, which involves the 'freedom to achieve well-being.'
Lastly, Professor Luksha hosted a panel discussion around how the demand for a workforce that possesses 'skills of the future' will require new education methods and training institutions. Speakers on Luksha's panel included Chuck, David Zdrojewski from Fixturlaser, and Boyd Parsons from Air Canada.
Throughout the discussion, the panel examined emerging themes that they see shaping the future of education in the industry. Video learning stood out as a progressive means of delivering skills training, predominantly through channels such as YouTube.
New ways of learning
As the second most popular search engine in the world, YouTube holds videos on just about everything. So these days, when people want to learn how to perform a particular task, or even just acquire more knowledge on a subject, YouTube's the place to go. David said people are hungry for basic information and his company has responded by creating its own YouTube channel.
In light of the recent launch of Volvo CE's new innovative concepts and autonomous machines, it's no surprise that Chuck was the one to highlight that machines won't be taking over workers' roles, but rather workers will need to be educated with a new set of skills. "Change is coming. Employees will need to be educated with more complex skills in order to facilitate the new world of automated machines," said Chuck.
An engaging audience
The forum attracted some 300 people from 52 different countries, who were all keen to engage in the Q&A sessions following each panel and eager to network in between. "People spoke so passionately of the industry. It was great to see them actively engaging in what they enjoy, and working on new projects to facilitate the future of the construction." Chuck said he was surprised by how energetic the event was.
"It was a great event, and only made me more excited for the industry to embrace the next step."