Partnership Opportunities
The success of our many events and our effective promotion of careers in skilled trades and technology depends on the support of our private/public sector partners. Skills/Compétences Canada offers partnership opportunities in conjunction with our key programs including :
                                                            
The 25th Skills Canada National Competition (SCNC)
Halifax Exhibition Centre
Halifax, NS
May 28 – 29
Come and celebrate the 25th Skills Canada National Competition in Halifax, Nova Scotia, May 28 and 29!
Halifax, an Atlantic Ocean port in eastern Canada, is the provincial capital of Nova Scotia. A major business centre, it's also known for its maritime history. The city's dominated by the hilltop Citadel, a star-shaped fort completed in the 1850s. Waterfront warehouses known as the Historic Properties recall Halifax's days as a trading hub for privateers, notably during the War of 1812.
Approximately 6,000 student visitors attended SCNC 2018 in Edmonton, Alberta.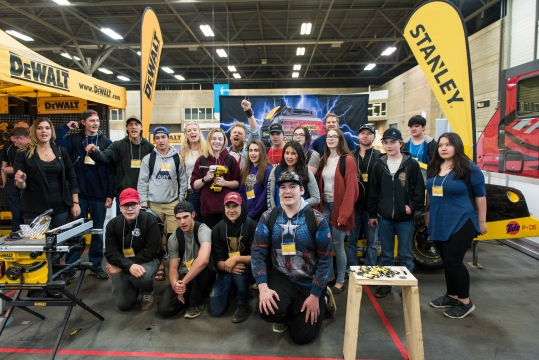 Event Highlights
Over 40 competitions; over 500 competitors
Over 40 Try-A-Trade® and Technology activities
Dedicated "Career Zone" including exhibitors and Try-A-Trade® and Technology activities
VIP partner receptions
Thousands of student visitors
Exhibit at the only national competition for skilled trades and technologies that showcases Canada's leading youth. Register now
Included in each 10′ x 10′ space:
One 6′ skirted table
Two chairs
One electrical outlet
Two hospitality passes that includes lunch on competition days and access to opening/closing ceremonies and the hospitality suite

Try-A-Trade® and Technology Activities: visitors put their skills to the test and get a feel for the trades, such as bricklaying, electrical wiring and cooking.
"It was more interesting than what I had imagined and I now am thinking of possible options for the future"
"It is interesting and it gave me choices of things I had never thought were possible and some things I had never seen"
– SCNC student visitors
The following partners hosted a Try-A-Trade® and Technology activity at SCNC 2018:
UA Canada
TransCanada/CWB Welding Foundation
Finning (Canada)
Fountain Tire
Stanley DeWALT
PCL Construction
Volkswagen Audi
McCordick A Bunzl Company
Recreational Vehicle Dealers Association (RVDA) of Canada
Alberta Regional Council of Carpenters and Allied Workers
Viega
Architectural Woodwork Manufacturers Association of Canada
Olds College
Syncrude
Volvo Construction Equipment/Strongco
Canadian Armed Forces


Save the date for the 26th Skills Canada National Competition!
Vancouver Convention Centre
May 28 – 29, 2020
With its location near the mouth of the Fraser River and on the waterways of the Strait of Georgia, Howe Sound, Burrard Inlet, and their tributaries, Vancouver has, for thousands of years, been a place of meeting, trade and settlement. It is consistently named as one of the top five worldwide cities for livability and quality of life. Winters in Greater Vancouver are the fourth mildest of Canadian cities after nearby Victoria, Nanaimo and Duncan, all on Vancouver Island.
Through SCNC, Skills/Compétences Canada promotes skilled trade and technology careers to Canadian youth. The Skills Canada National Competition is our flagship event and is an ideal way to connect with students and apprentices!
More information coming soon!
---
---
Check out our Partner Blog Page
---
WorldSkills
August 22-27, 2019
Kazan, Russia
Over 1,200 competitors, 2,000 experts, 3,000 volunteers and thousands of visitors participated in this exciting event. At WorldSkills Kazan 2019, the world's most skilled youth from up to 75 countries and regions competed in 50 disciplines for the prestigious title of World Champion.
Thanks to the increased involvement of our partners, WorldSkills Team Canada will have the opportunity to participate in this international event that brings together the world's most talented competitors in skilled trades and technologies.
---
For more information about partnership opportunities please contact :
Gail Vent, Director, Business Development
1 877 754-5226 ext. 507
gailv@skillscanada.com