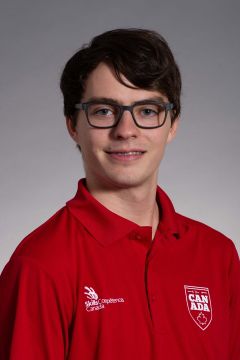 Trade: Mechanical Engineering CAD
School: MontrealPolytechnique
Employer: ElephantPlay
Hometown: Montreal, QC
Age: 19
Biography
The trade that I chose, mechanical engineering technician, is not specialized but I decided to specialize in machine engineering design, which is a separate branch. I find nothing more satisfying than creating a virtual product and then seeing it come to life in the real world. I'm attending university and I'm studying mechanical engineering, with a specialization in space technology. I want to purse a career in the space sector.
I became involved in the skills competitions as a result of my study program. The students at our school had been participating in the provincial competitions for many years and one of my teachers suggested that I compete.
Interesting Fact
I'm fascinated with the medieval period and fantasy, and I've participated in outdoor role playing that includes a mixture of theatre, combat and fantasy in a medieval context.
Essential Skills
Digital skills are fundamental in my trade because the whole basis of the competition calls for use of software. You need to be very skilled at computer use. One Essential Skill that I want to improve on is oral communication because it's very important when working with others.