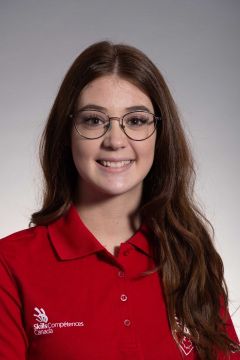 Skill: Beauty Therapy
School: Medes College
Employer: Medes Spa
Hometown: Dieppe, NB
Age: 18
Biography
The beauty industry has always interested me. When I was younger, I would do my mom's nails and her makeup, and I really loved it. That's why beauty therapy was a natural career choice for me. I would like start by gaining experience in aesthetics and see where my career takes me.
I got involved in skills competitions through my teacher Monica McGraw, who gave a presentation about this during one of my classes at school. I immediately became interested in competing. I'm excited that I have the opportunity to qualify to compete at WorldSkills Kazan 2019, against the best in the world. This would be an amazing experience on a personal and professional level.
Interesting Fact
I've been a dancer for almost six years and I dance competitively.
Essential Skills
Working with others has been the most important Essential Skill for my training because it allows me to work more effectively when I can communicate well with others. I think oral communication is also very valuable when it comes to the competition.