Steamfitter Pipefitter
Documents
Steamfitter Pipefitter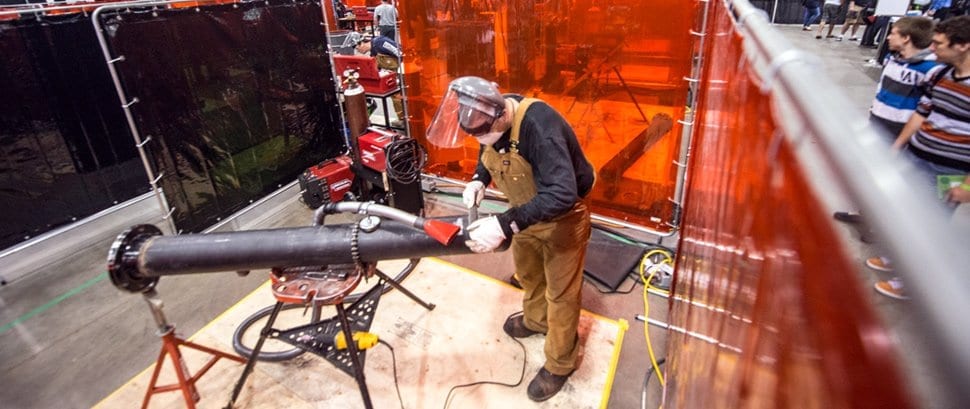 Steamfitters and pipefitters lay out, assemble, fabricate, maintain, troubleshoot and repair piping systems carrying water, steam, chemicals and fuel in heating, cooling, lubricating and other process piping systems.
Main duties
Steamfitters and pipefitters perform some or all of the following duties:
·      Support the safe execution of work
·      Install supports, valves, piping and control systems
·      Read and interpret drawings, blueprints and specifications to determine layout requirements
·      Cut openings for pipe in walls, floors and ceilings using hand or power tools or machines
·      Select type and size of pipe required
·      Measure, cut, thread and bend pipe to required shape using hand and power tools
·      Weld, braze, cement, solder and thread joints to join pipes and fabricate sections of piping system
·      Install supports, valves, piping and control systems
·      Test system for leaks using testing equipment
·      Clean and maintain pipe units and fittings and flush system
·      Remove and replace worn components and reactivate system
·      May prepare cost estimates for clients.
Steamfitters/Pipefitters work both indoors and outdoors at physically demanding tasks that often require working at heights. There is some risk of injury when working in and around trenches, on work platforms, and with power tools and heavy equipment. The piping systems may carry dangerous substances. Safety practices and training are emphasized in
order to minimize risks.
Who do they work for?
Maintenance departments
Factories
Plants
Sprinkler system contractors
Self-employed
Sample titles
Apprentice pipefitter-steamfitter
Fire protection mechanic
Fire sprinkler fitter
Marine pipefitter
Sprinkler system fitter
Essential Skills
Reading
Document Use
Writing
Numeracy
For full Essential Skills profile click here
How to join the field
Completion of secondary school is usually required.
Completion of a four- to five-year apprenticeship program
or
A combination of over five years of work experience in the trade and some high school, college or industry courses in steamfitting, pipefitting or sprinkler system installation is usually required to be eligible for trade certification.
Steamfitter-pipefitter trade certification is compulsory in Prince Edward Island, Quebec, Ontario, Manitoba, and Alberta and available, but voluntary, in all other provinces and the territories.
Steamfitter-pipefitter (non-construction) trade certification is compulsory in Quebec.
Red Seal endorsement is also available to qualified steamfitters-pipefitters and sprinkler system installers upon successful completion of the interprovincial Red Seal examination.
Apprenticeship training programs for steamfitters, pipefitters and sprinkler system installers vary across Canada. For steamfitters and pipefitters,they generally involve four 12-month periods, including at least 6,000 hours of on-the-job training, four eight-week blocks of technical training and a final certificate exam.
Salary
Minimum: $20.00/hour                        Maximum: $45.00/hour
Annual salaries between $42,000 to $120,500
For more information, contact:
Skills/Compétences Canada
294 Albert Street, Suite 201
Ottawa, ON K1P 6E6
Tel: 877 754 5226
Website :
http://www.skillscompetencescanada.com/en/