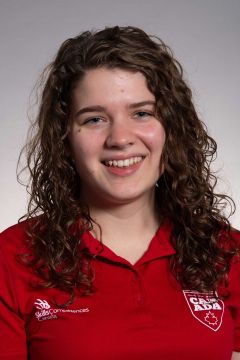 Skill: Pâtisserie and Confectionery
School: Humber College
Employer: Old Mill Hotel
Hometown: Barrie, ON
Age: 19
Biography
I chose a career in the trades because it gives me the ability to work with my hands and to be creative. I chose baking because there's something very satisfying about taking butter, flour, sugar and eggs and creating something beautiful and delicious. I want to work my way up to a pastry chef position and own a patisserie. I'm also looking at getting my Red Seal.
I first heard about skills competitions when I was in high school. I quickly became determined to attend the competition and worked hard to achieve this goal. This hard work earned me a gold medal at the provincial competition and at the 2018 Skills Canada National Competition.
Interesting Fact
I'm left handed which makes some tasks more challenging. Many tools are made for right handed people. Learning to write in chocolate was tricky as cursive is also designed for right handed people.
Essential Skills
Thinking is an important part of my training process. I have to plan what I want my products to look and taste like, test recipes, and modify the recipe until it makes exactly the right quantity that I need and comes out just right. I also need to be able to think on the spot and be good at problem solving, in case something goes wrong during a competition and I need to adapt quickly.