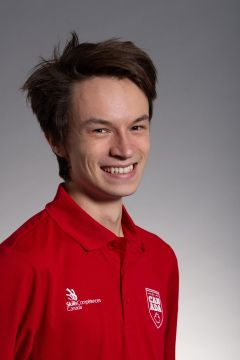 Skill: Cabinetmaking
School: Rosemount Technology Centre
Employer: Centaur Theatre
Hometown: Montreal, QC
Age: 21
Biography
I chose the skilled trades because I love working with my hands. I decided on cabinetmaking because I already had a background building theater sets which requires a lot of the same skills and practices. Ultimately my goal is to be self-employed and operate my own business.
I became involved in skills competitions through my trade school, where staff informed me of the opportunity after recognizing my talent.
Interesting Fact
Before being involved in the building trades, I studied photography. During that time, I learned a lot about design and visualization, which are skills that I now use regularly as a builder.
Essential Skills
In my work document use is a very important Essential Skill. It's not enough to be able to interpret what is in a blueprint or a drawing; you need to be able to notice what isn't there and know what that means for your build. Continuous learning is also valuable as I walked away from my experience at SCNC Edmonton 2018 having learned a lot. Most of what I've learned came from the mistakes I made, which I would never make again.