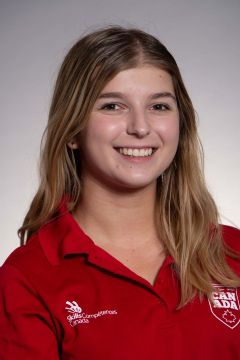 Skill: Graphic Design Technology
School: Saskatchewan Polytechnic
Employer: Ayden Creative
Hometown: Lanigan, SK
Age: 21
Biography
Pursuing a career in a trade appeals to me because I like hands on and practical work. I chose graphic design because it allows me to be creative. Eventually, I would like to be my own boss and design projects and brands that create an impact.
I got involved in skills competitions through my instructor at Saskatchewan Polytechnic who is very invested in it. He told me about it during my first year of post-secondary education. From there my interest in the competition developed.
Interesting Fact
I danced from the ages of four to seventeen. I found that the discipline that's required for dance helped me a great deal when it came to the graphic design competition. I was able to stay motivated and creative throughout the entire process.
Essential Skills
I believe that thinking, specifically problem solving, has been extremely instrumental in my training process. Throughout my entire education, we were taught how to take information and design it in a way that made it easier for people to understand. Problem solving was a key component in this process. Expanding these skills over my two years of education has been crucial to being successful in my training.