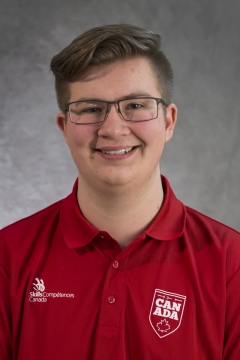 Name: Andrik Jacobsen
Skill: Cabinetmaking
School: Bev Facey Community High
Employer: N/A
Hometown: Sherwood Park, AB
Age: 17
Biography
I enjoy working with my hands and having the ability to create something functional and aesthetically pleasing from raw material. Cabinetmaking allows me to do this, by turning rough lumber into a useful, finished product. I hope to eventually own and operate a fine woodworking shop where I can build high end custom furniture and other items with the techniques and processes that I likely wouldn't have learned without my involvement in the skills competitions.
I became interested in my skills in grade 10 when my shop class teacher asked if I would be interested in competing. I knew immediately that I wanted the chance to compete against others in my field and so I began training for the competition.
Interesting Fact
My biggest inspiration in cabinetmaking is my trainer and teacher Steven Woodard. His insight and knowledge for this trade has been fundamental for my success at skills competitions.
Essential Skills
Continuous learning has probably been the most instrumental essential skill in my training and during the competition because no matter what you're doing something unexpected almost always comes up.