The NEW! Empowering Women in Trades space is dedicated to showing young women the incredible careers that are available in the skilled trades! Here you will have the opportunity to participate in interactive activities and speak with tradeswomen who love their job to discover what inspired them to pursue their career. The space is being supported by CWB Welding Foundation, the Manitoba Construction Sector Council, Manitoba Métis Federation, Manitoba Women in Construction, and Manitoba Status of Women Secretariat. Many tradeswomen will be onsite to share their exciting career journeys, including Kate Campbell, TV Personality and Founder of Kate Builds and Jamie MacMillan, Founder of KickAss Careers.  
At this booth, visitors will have the opportunity to:
Talk to tradeswomen to learn more about the fantastic careers in the skilled trades 

 

Try out the virtual welder and chainsaw

 

Gear up and smile at the photo booth 

 

Take home some fun activities

 

And much more!

 
Kate Campbell, Celebrity TV Contractor and Founder of Kate Builds (May 25)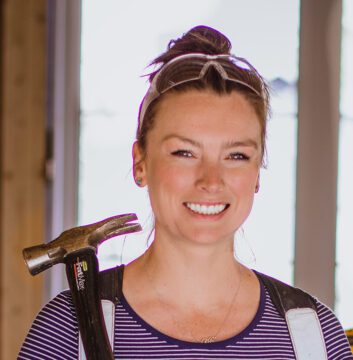 Kate Campbell entered the skilled trades in 2005. After realizing that the university path wasn't for her, Kate applied to a "Women in Skilled Trades" (WIST) course and realized she had found her passion. During the three-month program she was introduced to carpentry, electrical, plumbing, finish carpentry and several other trades.
Kate has been working in the television and renovation industry for over fifteen years and has been taught by some of the Canada's top renovators. She can be seen as part of the crew for HGTV's "Holmes on Homes", "Holmes in New Orleans", "Holmes Inspection" and assisting the final contestants as a part of "Handyman Superstar Challenge".
She also runs her own company, Kate Builds, which specializes in real estate investment and rehabbing run-down properties, concentrating mainly on century homes with lots of character. In addition, Kate is extremely passionate about speaking to young women who are considering entering the trades. Kate's mission is to use her story and experience to help as many women as possible feel empowered to get into the trades or feel confident in the world of real estate investment.
Jamie McMillan, Founder of KickAss Careers (May 26)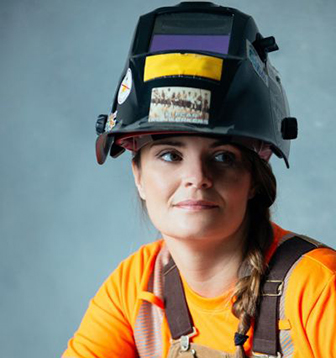 Jamie became an ironworker in 2002 when women only represented two percent of the workforce across Canada and the United States. She thoroughly understands the struggles and challenges of working in a male dominated workforce and is on a mission to break down the negative misconceptions and stereotypes.
A multi-award winner for her efforts and work in this space, Jamie travels approximately 30 weeks yearly providing engaging keynote presentations and workshops to more than 50,000 students, parents, educators, unions, and employers each year across North America. Her efforts have gained international notoriety for opening doors and minds to the possibilities of well-paid careers in the skilled trade and technology sectors.
Jamie's refreshing and charismatic perspective inspire audiences of all sizes to raise the bar and shift gears on the way they see workplace innovation, inclusion, empowerment, overcoming adversity and driving innovation while opening new pathways to the trades.
Ethel Anderson, Employment and Training Coordinator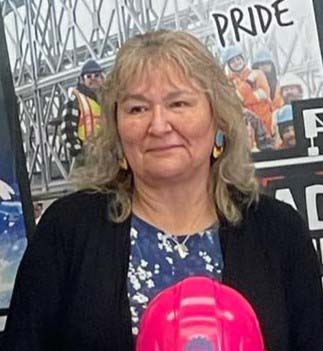 Ethel is the Employment and Training Coordinator at Pinaymootang First Nation. Ethel has been an incredible support for the Indigenous women attending our framer and blast hole drilling course in Pinaymootang. She works closely with the Manitoba Construction Sector Council's Indigenous Liaison and community leaders to ensure the program is a success!
CWB Welding Foundation's Women of Steel™

Forging Forward pre-employment programs, delivered in partnership with hosts across Canada, this program is focused on inspiring and preparing the next generation of women in welding and welding-related careers. Through flexible instructions in a safe and supportive environment, participants experience mentorship-focused and hands-on learning. To all young women interested in exploring welding or other skilled trades, Lindsay Rosser, Women of Steel™ Partner Instructor, says "Trades are not just for non-academics. They are for everyone. It takes hard work and dedication, but you can achieve anything you put your mind to!" Learn more at cwbweldingfoundation.org.
Sietta Marsden, Valedictorian, Women's Framing Course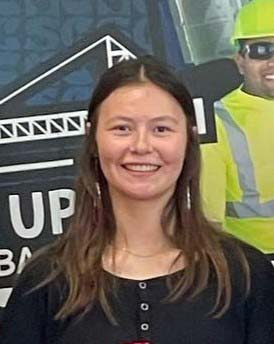 Sietta is a graduate and the valedictorian of the women's framing course at the Manitoba Construction Sector Council, in Pinaymootang First Nation, in 2021. Sietta now works as a framer in her community.  Her success serves as a powerful example for other women as she shares how this opportunity has impacted her life.
Leah Peters, Site Superintendent for Bockstael (May 25)

Leah is a Site Superintendent for Bockstael and has been working in commercial construction for six years. Before that Leah worked for six years in residential renovation and restoration for Doll Construction and was mentored by master carpenter Brian Doll.
Leah showed interest at a young age in building and completing home renovation projects with her handyman Father. Leah learned the importance of doing things right and quickly developed a love for building. She bought her first house at age 16 and continued to use the skills her father taught her to do renovations. When her parents decided to move to Africa to build their own dream with Dashir lodge and Safaris and their non-for-profit organization Dashir Cares, Leah was determined to keep learning and set out to find a new mentor. While it was a struggle to find a job with no professional experience Leah was eventually taken on by Brian Doll and was able to continue learning to build.
Leah has gained a great deal of experience and expertise along every step of this journey and is excited to be joining the Manitoba Women in Construction (MWC) board of directors. In doing so Leah hopes to help educate and mentor the next generation of women considering a career in construction, and to help break down barriers that many face along their journeys.
Kristina Peterson, Red Seal Carpenter, Bird Construction (May 26)

Kristina Peterson has been working as a carpenter for the last five years. She recently achieved her red seal certification in April 2022. During her career she has worked on a variety of projects including Canada's diversity gardens and the polo park sears redevelopment. In high school Kristina never imagined herself working on a construction site and after graduating from the University of Manitoba she had an office job in construction for many years. When that position ended, she was looking for a change and saw the terrific pay she could make as an apprentice. After taking a six-week course on concrete forming she was selected to work for Bird and has loved the job ever since. She says every day brings new challenges and opportunities to learn new things. A bonus of being in the construction industry is that it gives you a behind the scenes look that only a privileged few get to see. When Kristina isn't working, she enjoys spending time outdoors with her husband and three kids. Her love of building is also on display with her huge Lego collection.
Ella Morris

Ella Morris is an alumna of the Engineering Access Program (ENGAP) and has received a Bachelor of Science degree in Mechanical Engineering from the University of Manitoba, in 2017. She is an engineer-in-training working towards becoming a licensed professional engineer. Ella studied turbulent jets during her Master of Sciences at the University of Manitoba, in 2020. She is working towards a doctorate degree (Ph.D.) and is studying bluff bodies in the Turbulence and Hydraulics Engineering Laboratory at the University of Manitoba. Ella joined the Department of Biosystems Engineering in 2022 as an Instructor. She will be teaching several courses in the upcoming year including: Graduation Project (Biosystems), Fluid Mechanics, Design in Engineering, and Decolonizing and Indigenizing Engineering.