Sheridan College
Industrial Mechanics
Oakville, ON
Biography
I got involved in the skilled trades because of my dad, who has worked in the trades for many years. He started as an apprentice and worked his way up to become a project manager. I like that the trades offer continuous learning and keeps me challenged. My career goal is to eventually manage my own crew and own a production plant.
I got involved in skills competitions through Sheridan College. My teachers encouraged me to participate. As a WorldSkills Team Canada 2019 Prospect, I'm looking forward to participating at the Selection Event for the opportunity to become an official member of WorldSkills Team Canada 2019. Competing at WorldSkills Kazan 2019 would be an amazing experience on a personal and professional level.
Interesting Fact
During my spare time, I like to ride motorcycles and go camping.
Essential Skills
I feel that oral communication is a very important Essential Skill for my trade because I work with a team of mechanics and electricians and we need to be able to communicate ideas and figure out how to solve problems as a team.
Photo Gallery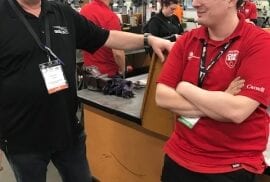 Media Coverage
June 6, 2019
Sheridan College - Sheridan student secures spot at WorldSkills Competition in Russia
View original article
September 6, 2019
Sheridan College - Sheridan Apprentice Receives a Medallion for Excellence at WorldSkills in Russia
View original article