Kevin Couderc-Dubois - 20
Rosemont College
IT - Network Systems Administration
Boisbriand, Quebec
Biography
I started a specialized program towards the end of my high school studies. I've had a constant immersion in the field of IT network systems and administration before I even started college. This interest eventually developed into a passion, which has led me to pursue a career in this field.
I plan to continue working for Cisco however my goal is to obtain an engineering position in the global virtual engineering team. This would allow me to support a variety of accounts from across the globe for different Cisco activities.
Interesting Fact
I am a musician and I play guitar, bass and battery. The determination and discipline that are required to be a musician are skills that have helped me during my training for the competition.
Essential Skills
Continuous learning is an Essential Skill that I consider to be very important for a career in technology. As this field is constantly changing and evolving, it is important to keep up with these developments.
Competition History
Olympiades québécoises des métiers et des technologies 2014
Olympiades québécoises des métiers et des technologies 2016
Skills Canada National Competition 2015
Skills Canada National Competition 2016
Training History
WorldSkills Team Canada Trials: Cisco Canada, Montreal, QC, January 3-6, 2017
Photo Gallery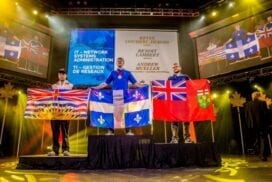 Media Coverage
May 9, 2016
Kevin Couderc-Dubois, étudiant au Collège de Rosemont, médaillé d'or aux Olympiades québécoises de la formation professionnelle et technique!
View original article