Centre de formation horticole de Laval
Landscape Gardening
Mirabel, Quebec
Biography
I have chosen a skilled trade because I prefer to concentrate on a specific field instead of taking various general classes. I have chosen to be a landscape gardener because this field includes many aspects that I love, such as inert plants and materials, and it allows me to be creative.
I got involved with Skills competitions through one of my teachers who noticed that I had potential and suggested I participate in a competition.
Interesting Fact
In my spare time, I love to hunt and fish.
Essential Skills
I feel that teamwork is a very important Essential Skill for the upcoming competition because I am part of a team of two. It is crucial for me and my partner to be able to communicate effectively in order for us to be successful.
Competition History
Olympiades québécoises des métiers et des technologies
Skills Canada National Competition 2016
Training History
Participated in EuroSkills 2016 in Gothenburg Sweden
WorldSkills Team Canada Trials: EuroSkills, December 1-3, 2016
Photo Gallery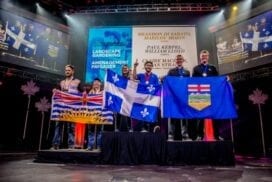 Media Coverage
Olympiades canadiennes 2016 des métiers et des technologies - Marilou Morin et Brandon Di Sabato, médaillés Or en aménagement paysager
View original article