Nova Scotia Community College
Refrigeration and Air Conditioning
Cambridge, NS
Biography
I chose a career in the trades because I enjoy taking things apart and putting them back together to see how they function. I chose my trade in particular because I wanted a career that touched on many things such as: electrical, mechanical, piping, commissioning, troubleshooting etc. My career goals are to finish my apprenticeship and become a Red Seal technician. Although I plan to continue working at Acadia Refrigeration, sometimes I think of starting my own company when I'm older.
I got involved in Skills Competitions during my first year of the refrigeration course I was taking at Nova Scotia Community College. I entered the provincial competition in 2016 and won a gold medal. The following year I won gold at the 2017 Skills Canada National competition, in Winnipeg. Finally I won gold at SCNC Edmonton 2018, which was a qualifying year for the WorldSkills Competition.
Interesting Fact
My biggest inspiration is my boss and good friend Darren Best. He's by far the smartest person that I know and can basically fix and build anything, whether or not it has to do with refrigeration. I look up to him and hope that someday I will have the same knowledge and skills that he does.
Essential Skills
A skill that has been instrumental to me in my training and during the competition would be thinking because you are constantly thinking about what's going on with a system if you're troubleshooting, or thinking of piping practices, electrical sequences, mechanical sequences, industry standards, and what you have to do next.
Photo Gallery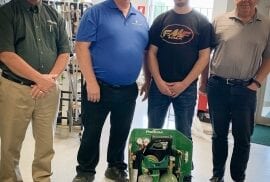 Media Coverage
August 12, 2019
National winner from Annapolis Valley off to world skills competition in Russia, The Chronical Herald
Refrigeration technician Zachary Walsh of Cambridge will travel to Russia Aug. 18 to represent Canada in his specialty at a world skills competition. He qualified by winning a national competition in Edmonton in 2018 and a world selection event earlier this year in Halifax. - John DeCoste
View original article
September 9, 2019
WorldSkills Medallion of Excellence goes to Nova Scotia apprentice
Zach Walsh from Cambridge, Nova Scotia has been awarded a Medallion of Excellence in refrigeration and air conditioning at WorldSkills.
View original article