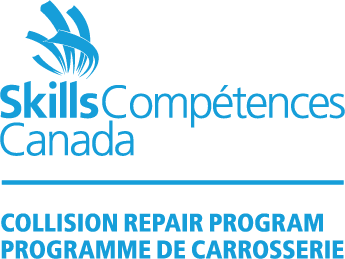 About  Contact Us Events Sponsorship Career
Welcome to the Skills Canada Collision Repair Program website
The Skills Canada Collision Repair Program promotes careers in the Collision Repair Industry to students, parents and teachers by increasing visibility and awareness of career opportunities at Skills Canada competitions and career events across Canada.
Mission
The Skills Canada Collision Repair Program helps to bring together industry stakeholders to make it possible to host skills competitions across Canada. This includes coordination of a vast amount of parts, paint, equipment, vehicles, and supplies that are required to host each skills competition. In addition, hundreds of volunteers are recruited each year to help out, and ensure that the competitors enjoy a professional event.
In additional, working with dedicated industry partners, the Skills Canada Collision Repair Program provides competitors with hands-on training and educational opportunities at many competitions that they would not otherwise have access to. This provides a valuable opportunity for industry to be connected with students and educational professionals. These training opportunities help young people leave the competition with enhanced skills and knowledge to help them excel on the job.
The competitions provide an invaluable opportunity to promote careers in collision repair to students, when they see their peers demonstrating their skills using our high-tech, modern equipment.
Our events are interactive, through the use of the Skills Canada Collision Repair Program Virtual Painting Booth, which is onsite at Skills Competitions to provide an exciting hands-on activity. Tens of thousands of young people have a chance to hear about the collision repair industry, possibly for the first time, and explore if this could be the career opportunity they are seeking. Industry volunteers operate the virtual paint booth and share their expertise, provide career information and brochures, and answer questions about the industry.
By working together as an industry we are attracting new talent and helping to retain the young competitors who have already found their passion in collision repair.
There are many different opportunities for industry stakeholders to participate:
Become a financial Skills Canada Collision Repair Program Sponsor
Donate parts, paint, equipment, tools and supplies
Volunteer on a technical committee to assist with planning, setup and running an event
Volunteer on competition day as a judge, or to help run the virtual paint booth
For information about opportunities to get involved, contact:
Leanne Jefferies, Director
Phone: (905) 628 – 2041
Mobile: (905) 251 – 1345
Email: ljefferies@bell.net
Web: skillscompetencescanada.com/en/crp