Skills/Compétences Canada (SCC) spoke with Deanna Reynolds, the WorldSkills Team Canada 2017 competitor in Industrial Mechanics Millwright, about her professional journey. SCC asked Deanna how she got involved in the skilled trades. "A lot of my family members work in the trades and I have always been intrigued by their work. Also, I've always enjoyed building and fixing things so pursuing a career in the trades seems like a great fit for me. I was especially drawn to the field of industrial mechanics millwright because of its diversity. My day-to-day tasks are always varied and there are many different possibilities when it comes to the work environments. I currently work in a factory, which I really enjoy. "
When we asked Deanna whether she has encountered any challenges working as a woman in a male dominated trade, she replied, "I believe that since I work well with others and that I am a team player, this has allowed me to integrate myself well in this type of work environment. I am also very lucky to have supportive colleagues who encourage me to strive for my best and also support me on my journey to WorldSkills Abu Dhabi 2017. I consider my instructors as my mentors as they have greatly helped me during my training for the upcoming Competition. I am especially grateful for the support I've received from my WorldSkills Team Canada 2017 trainer, Earl Simpson, who is also a Millwright instructor at the Southern Alberta Institute of Technology (SAIT)."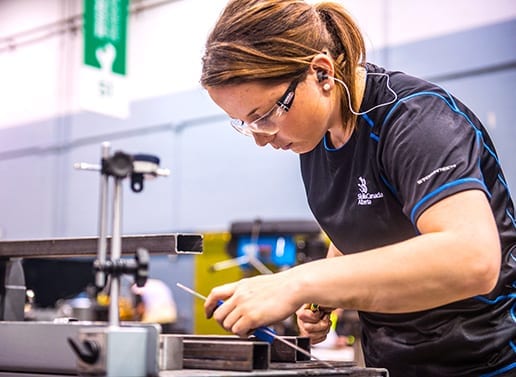 When asked how she feels about being considered a role model to others as a member of WorldSkills Team Canada 2017, Deanna answered, "it is humbling to have people look up to me, especially young people. I remember when I first heard about the Skills Canada National Competition (SCNC) and saw a video of young women competing in non-traditional trades at SCNC, I found this truly inspiring! It was nice to see that women can do well in these trades and it made me reflect on my own career journey and see the possibilities that are offered. I hope I can also inspire other young women to find their passion in the skilled trade and technology sectors. "
Deanna will be competing at WorldSkills Abu Dhabi 2017, the largest vocational, educational and skills excellence event in the world that truly reflects global industry. Over 1,300 competitors will participate in this event. They represent the best of their peers and have been selected from skills competitions around the world from 76 WorldSkills Member countries and regions. Deanna is thrilled to be participating in the competition and believes that all her hard work will pay off.
For more information about the 2017 WorldSkills Competition, go to: worldskillsabudhabi2017.com.
Like all WorldSkills Team Canada 2017 competitors, Deanna is receiving a great deal of support through her competition sponsor Fixturlaser Canada.
Deanna will be attending the Skills Canada National Competition as a training opportunity. Join us at SCNC, in Winnipeg, Manitoba, from May 31-June 3, 2017 at the RBC Convention Centre. Attendance is free.
For more information, visit: skillscompetencescanada.com.