WorldSkills São Paulo 2015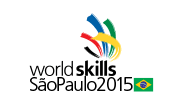 Every two years, competitors selected from the Skills Canada National Competition (SCNC) form Team Canada and compete at the WorldSkills Competition, against the best in the world!  This will be the 13th annual international competition event that Canada will be participating in.
The 43rd WorldSkills Competition is being hosted in São Paulo, Brazil from August 11-16, 2013. Over thirty Canadian competitors will be participating in over 30 contest areas and will represent Canada at this prestigious international event that will involve more than 1,000 competitors from 67 countries/regions.
WorldSkills is an international organization that actively promotes vocational training. The mission of WorldSkills International is to challenge young people, their teachers, trainers and employers to achieve world class standards of competence in commerce, services and industry, and to promote the status of vocational training.