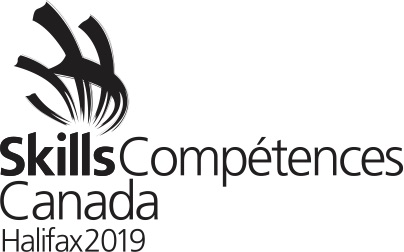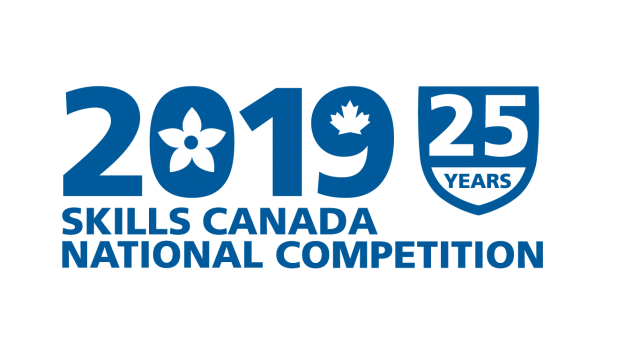 The 25th Skills Canada National Competition 
Halifax Exhibition Centre
Halifax, NS
May 28 – 29
Come and celebrate the 25th Skills Canada National Competition in Halifax, Nova Scotia, May 28 and 29!
Halifax, an Atlantic Ocean port in eastern Canada, is the provincial capital of Nova Scotia. A major business centre, it's also known for its maritime history. The city's dominated by the hilltop Citadel, a star-shaped fort completed in the 1850s. Waterfront warehouses known as the Historic Properties recall Halifax's days as a trading hub for privateers, notably during the War of 1812.
The Skills Canada National Competition (SCNC) is the only national, multi-trade and technology competition for students and apprentices in the country.
Each year, more than 550 competitors from all regions of Canada come to SCNC to participate in over 40 skilled trade and technology competitions.
By providing a forum where Canadians can compete at the national level, SCNC provides hands-on work experience related to skilled trade and technology careers.
Canada's best talent in skilled trades and technologies gather to compete in:
Precision Machining | Mechatronics | Mechanical Engineering CAD | CNC Machining | IT – Office Software Applications | Welding | Autobody Repair | Sheet Metal Work | Plumbing | Electronics | Web Design and Development | Electrical Installations | Industrial Control | Bricklaying | Cabinetmaking | Carpentry | Hairstyling | Aesthetics | Fashion Technology | Baking | Automobile Technology | Cooking | Landscape Gardening | Refrigeration and Air Conditioning | IT Network Systems Administration | Graphic Design | Industrial Mechanic Millwright | Architectural Technology & Design | Outdoor Power and Recreation Equipment | Video Production | Job Search | Job Skill Demonstration | Public Speaking | 3D Character Computer Animation | 2D Character Computer Animation | Aerospace Technology | Workplace Safety | Mobile Robotics | Heavy Equipment Technology | Car Painting | Steamfitter – Pipefitter |  Photography | Sprinkler Systems | 3D Digital Game Art
Important Documents

SCNC 2019 Postcard
SCNC 2019 Sponsorship Package
SCNC 2019 Poster
SCNC 2019 School Group Poster
Event Agenda
SCNC 2018 Recap 
Competition Documents
Competition Rules
Essential Skills Forum
ES Talks 2019
Essential Skills Activities
Essential Skills Stage Schedule 2019
SCNC 2019 Volunteer Opportunities
Site Map
Contest area Try-A-Trade and Technology Activities
Sponsored Try-A-Trade and Technology Activities 
Official Program
Visitor Guide
SCNC Exhibitors
Young Women in Construction Conference
Hosted by UA Canada
May 29, 1:00pm  – 2:30pm
Halifax Exhibition Centre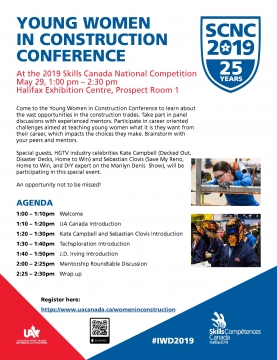 Exhibit Space is sold out!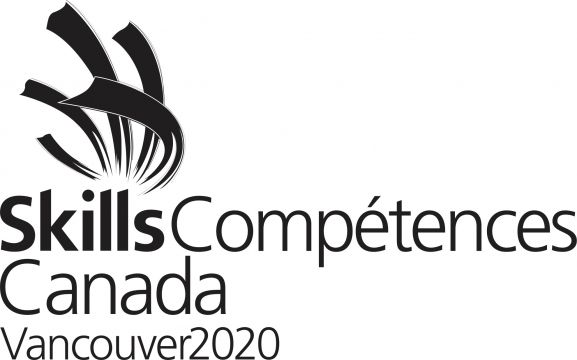 Save the date for the 26th Skills Canada National Competition!
Vancouver Convention Centre
May 28 – 29, 2020
With its location near the mouth of the Fraser River and on the waterways of the Strait of Georgia, Howe Sound, Burrard Inlet, and their tributaries, Vancouver has, for thousands of years, been a place of meeting, trade and settlement. It is consistently named as one of the top five worldwide cities for livability and quality of life. Winters in Greater Vancouver are the fourth mildest of Canadian cities after nearby Victoria, Nanaimo and Duncan, all on Vancouver Island.
Through SCNC, Skills/Compétences Canada promotes skilled trade and technology careers to Canadian youth. The Skills Canada National Competition is our flagship event and is an ideal way to connect with students and apprentices!
More information coming soon!