Volvo is launching a series of campaign promotions to celebrate the machine that changed the construction industry.
In 1966, Volvo Construction Equipment (Volvo CE) launched the world's first articulated hauler, the Volvo DR 631, in Braås, Sweden. This year, Volvo CE will be celebrating the articulated hauler's 50th anniversary with a custom-painted gold hauler, dubbed the "Golden Hauler," which will travel around the United States and Canada to make special appearances at dealer-sponsored events starting in February.
"This year is a very special year for Volvo. Not only are we celebrating the articulated hauler's 50th anniversary, but we will also be introducing a new class of articulated haulers at Bauma 2016 later in the year that will mark a new generation of the class," said Göran Lindgren, president, Region Americas, Volvo CE.
The Golden Hauler will end its journey at CONEXPO 2017, where it will be auctioned off with proceeds supporting training programs that encourage new generations to enter the construction industry. Volvo is partnering with SkillsUSA, Skills Canada, and regional career development programs located near their manufacturing facility in Shippensburg, Pennsylvania.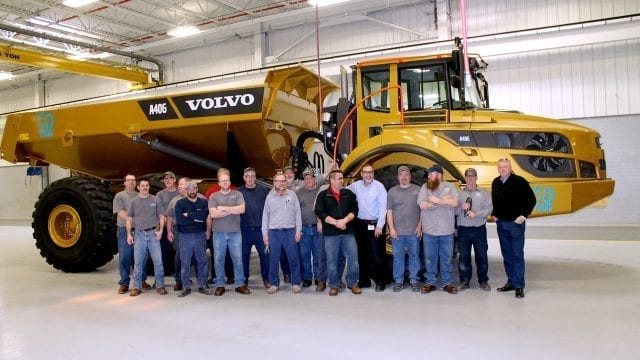 Nurturing new talent
The shortage of technically skilled workers could cost the United States economy up to $180 billion, according to a report by the Associated Equipment Distributors, an international trade association representing companies involved in the distribution, rental and support of construction equipment.
"We are thrilled that Volvo is partnering with us to encourage younger people to work in the construction industry, especially at a time when there's a growing skills gap due to biases against technical careers and trade schools," said Timothy W. Lawrence, executive director, SkillsUSA.
Portions of the proceeds from the hauler auction will be used to directly support SkillsUSA and Skills Canada's mission. Both organizations provide leadership and character development educational programs and activities.
SkillsUSA's Championships and community service projects serve more than 300,000 career and technical education (CTE) students and teachers each year. SkillsUSA is proud to work with industry to help close America's skills gap. Since SkillsUSA was founded in 1965 it has served over 11.9 million members and partnered with more than 600 national businesses, trade associations and unions to train and inspire CTE students.
"Skills/Compétences Canada is excited to partner with Volvo Construction Equipment to profile the valuable and exciting careers in the construction and manufacturing sectors," said Shaun Thorson, CEO of Skills/Compétences Canada. "It's important for youth to understand the full range of educational pathways and career opportunities in the skilled trades."
Skills/Compétences Canada (SCC) was founded in 1989 as a national, non-profit organization that works with employers, educators, labour groups and governments to promote skilled trades and technology careers among Canadian youth. Its unique position among private and public sector partners enables it to work toward securing Canada's future skilled labour needs while helping young people discover rewarding careers. SCC offers experiential learning opportunities including skilled trades and technology competitions for hundreds of thousands of young Canadians through regional, provincial/territorial, national and international events, as well as skilled trades awareness programs.
Hauler with a heart of gold
When Volvo CE's innovative engineers first introduced the Volvo DR 631, a 10-ton class articulated hauler, it ignited a whole new range of construction equipment. Since then, more than 70,000 articulated haulers have been produced globally and are used to transport a wide variety of materials efficiently across rough terrains around the world.
To celebrate the golden anniversary of the articulated hauler, 12 employees from Volvo CE's Shippensburg, Pennsylvania, facility custom painted an A40G articulated hauler gold. The employees have a combined 240 years of experience painting construction equipment.
"This project is a lot bigger than any we've done before," said Dave Harry, paint project leader. "We spent 650 hours gilding the hauler to make it shine for its celebratory journey across the United States and Canada."
AkzoNobel, a leading global paints and coating company headquartered in Amsterdam, Netherlands, donated $15,000 worth of Sikkens Autocoat BT paint. The sparkling gold color was hand-selected and hand-sprayed by the project team at Volvo, with assistance from AkzoNobel. Volvo Trucks donated a custom-painted gold Volvo VNX 630 to transport the Golden Hauler throughout the year. Built in New River Valley, Virginia, the VNX is powered by a 600 hp Volvo D16 engine and Volvo I-Shift 12 speed automated manual transmission. Volvo CE's long-time partner Keen Transport, a national heavy equipment transportation and trucking company based in Carlisle, Pennsylvania, is dedicating one driver to help drive the truck and Golden Hauler across the country.
"We are grateful that our long-time partners are all chipping in to help with our celebration," Lindgren said. "I'm looking forward to seeing our Golden Hauler tour America and Canada."
Painting the hauler golden
Number of team members: 12 employees from Shippensburg, Pennsylvania
Total number of painting team's experience: 240 years
Hours to complete paint job: 650 hours
Cost of paint and finish: $15,000
Still hauling after all these years
As part of the anniversary year, Volvo CE will also be hosting a contest to find the oldest working Volvo hauler in the United States or Canada.
The winner of the contest will be invited to join the articulated hauler celebrations in Braås, Sweden, this summer.
Starting March 1, full details about the competition, including how owners can submit their nominations, can be found at www.GoldenHauler.com.