The Alberta Regional Council of Carpenters and Allied Workers
is confirmed as the Launch Pad Sponsor for the 2018 Skills Canada National Competition.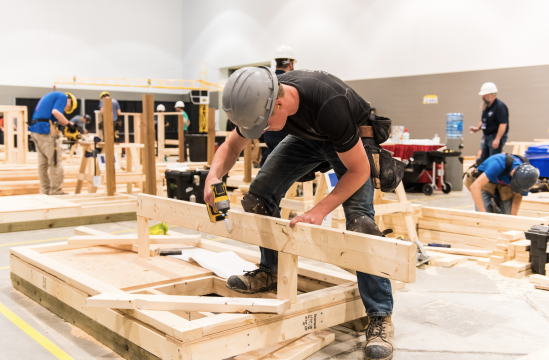 OTTAWA, Ontario, April 17, 2018 – Skills/Compétences Canada (SCC), a not-for-profit organization that actively promotes careers in skilled trades and technologies, is proud to announce that the Alberta Regional Council of Carpenters and Allied Workers have partnered with Skills/Compétences Canada in support of the Skills Canada National Competition (SCNC). The next Skills Canada National Competition will be held June 4 – 5, 2018, at the Edmonton EXPO Centre.
The Alberta Regional Council of Carpenters and Allied Workers have been partners with Skills Canada Alberta for many years and have recently signed on with Skills/Compétences Canada to support the 2018 Skill Canada National Competition. They will be sponsoring the Launch Pad at SCNC, where students are introduced to the competition through a cutting-edge, youth focused, audio-visual experience that leads them to a career exploration event. Through their partnership with SCC, they work to promote the manufacturing and construction sectors by engaging tomorrow's workforce. The Skills Canada National Competition is an opportunity for youth to discover many of the career options that are available to them in these sectors.
"With Alberta's economy rebounding and diversifying, we want to ensure that young people know that a career with the union is a great way to make a good living," said Derrick Schulte, Executive Secretary-Treasurer of the ARCCAW. "We offer quality and safely performed work in return for good family-supporting jobs, and Skills Canada is a natural partner – and one we are proud to support."
Through the support of its many sponsors and suppliers, SCC is able to raise awareness of skilled trade and technology careers at SCNC. At the 2018 Skills Canada National Competition, representatives from industry, government, and labour, along with educators and youth will gather in Edmonton, Alberta. Over 550 secondary and post-secondary students will compete for the title of national champion in more than 40 skilled trade and technology contest areas. In addition, there will be over 50 interactive Try-A-Trade® and Technology activities that will give the approximately 7,500 visiting students the opportunity to learn about careers in the skilled trade and technology industries. Alberta Regional Council of Carpenters and Allied Workers will be hosting a large Try-A-Trade® and Technology activity at the Carpentry Skill Area during SCNC.
"The Skills Canada National Competition highlights the many skills that are needed to work in the constantly evolving job market including strong technical, communication and digital skills. It is because of partnerships like these that we can continue to provide relevant skilled trade and technology sector experiences to the next generation of workers," says Shaun Thorson, Chief Executive Officer of Skills/Compétences Canada.
About the Alberta Regional Council of Carpenters and Allied Workers
The local unions of the Alberta Regional Council of Carpenters have met the labour needs of Alberta's construction industry since 1902 – before the formation of Alberta as a province – and continue to evolve and adapt to meet Alberta's changing infrastructure needs. Our union has nearly 13,000 carpenters, scaffolders, millwrights and other trades in our shops and plants who are dedicated to quality, safety, and delivering construction and maintenance projects on time and on budget. Our economy is rebounding and beginning to diversify – but there is still not enough benefit going to working families. Unions like ours work to increase the middle class in Alberta. A strong union means a strong middle class – that means a strong economy for our future. With training centres in Fort McMurray, Calgary, and Edmonton, we are well positioned to continue to train the workforce of today, and tomorrow.
Follow us on Twitter (@altacarpenters), Facebook (@AlbertaCarpenters), Instagram and www.albertacarpenters.com.
About Skills/Compétences Canada
Skills Canada was founded in 1989 as a national, not-for-profit organization with partner Skills Canada organizations in each of the provinces/territories that work with employers, educators, labour groups and governments to promote skilled trades and technology careers among Canadian youth. Its unique position among private and public-sector partners enables it to work toward securing Canada's future skilled labour needs while helping young people discover rewarding careers. Skills Canada offers experiential learning opportunities including skilled trades and technology competitions for hundreds of thousands of young Canadians through regional, provincial/territorial, national and international events, as well as skilled trades awareness programs. Headquartered in Ottawa, Ontario, Skills/Compétneces Canada is the Canadian Member organization of WorldSkills.
Follow Skills/Compétences Canada on Twitter, Facebook, YouTube, Flickr and Instagram.
-30-
MEDIA CONTACT: Michèle Rogerson, micheler@skillscanada.com, T. 343-883-7545 ext. 509 or 613-266-4771