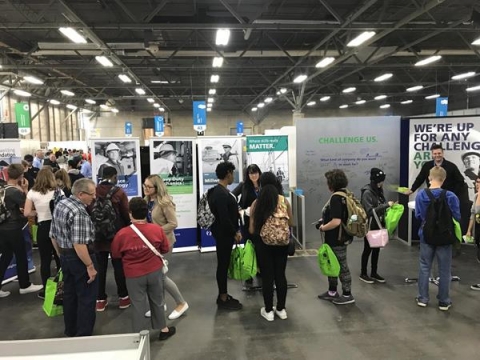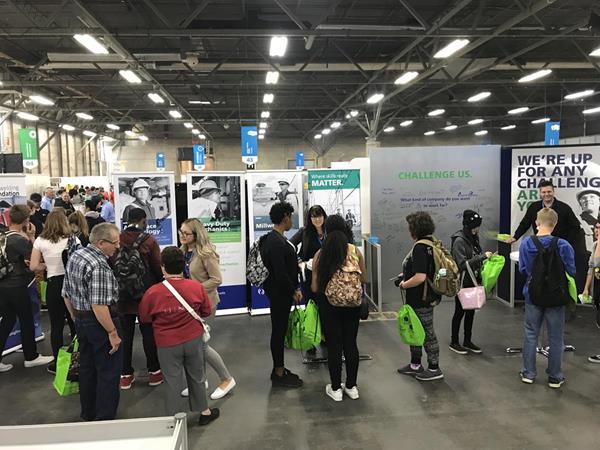 Carla Morris, central region director at TransCanada, meets with student visitors at the TransCanada booth during the 2018 Skills Canada National Competition, in Edmonton.
TransCanada confirms their commitment as a Presenting Sponsor of Canada's only national, multi-trade and technology competition for students and apprentices in the country.
OTTAWA, Feb. 12, 2019 (GLOBE NEWSWIRE) — Skills/Compétences Canada (SCC), a not-for-profit organization that actively promotes careers in skilled trades and technologies, is proud to announce that TransCanada has returned as a Presenting Sponsor of the 2019 Skills Canada National Competition. The Skills Canada National Competition (SCNC) will be held on May 28-29, 2019, at the Halifax Exhibition Centre.
SCNC is the ideal venue for organizations, like TransCanada, to connect with students who are interested in skilled trade career opportunities. According to the Construction Sector Council, nearly 25 percent of skilled workers will retire in the next decade. This means that there will continue to be a strong demand for skilled workers in Canada.
"We are pleased to return as a Presenting Sponsor of the 25th Skills Canada National Competition," says Carla Morris, central region director at TransCanada. "We continue to recruit for  our growing Canadian operations that play a critical role in safely delivering the energy that millions of people rely on every day. SCNC is a great opportunity to connect with top talent and attract employees with a diversity of backgrounds, opinions and skills to strengthen our team and drive innovation."
Representatives from industry, government, and labour, along with educators, youth, parents and the public are expected to attend the event, and over 550 students and apprentices will compete for the title of national champion in more than 40 skilled trade and technology Skill Areas. Also, there will be over 50 interactive Try-A-Trade® and Technology activities that will give over 7,500 visiting students the opportunity to learn about the various career options available to them in the skilled trade and technology sectors.
"The Skills Canada National Competition profiles the skills that are necessary to adapt to the quickly evolving job market. Through our partnership with TransCanada we can raise awareness of these constantly changing occupations and inform the next generation of workers on the skills needed to enter the workforce," says Shaun Thorson, Chief Executive Officer of Skills/Compétences Canada.
About TransCanada Corporation
With more than 65 years' experience, TransCanada is a leader in the responsible development and reliable operation of North American energy infrastructure including natural gas and liquids pipelines, power generation and gas storage facilities. TransCanada operates one of the largest natural gas transmission networks that extends more than 91,900 kilometres (57,100 miles), connecting major gas supply basins to markets across North America. TransCanada is a leading provider of gas storage and related services with 653 billion cubic feet of storage capacity. A large independent power producer, TransCanada currently owns or has interests in more than 6,000 megawatts of power generation in Canada and the United States. TransCanada is also the developer and operator of one of North America's leading liquids pipeline systems that extends approximately 4,900 kilometres (3,000 miles), connecting growing continental oil supplies to key markets and refineries. TransCanada's common shares trade on the Toronto and New York stock exchanges under the symbol TRP. Visit TransCanada.com to learn more, or connect with us on social media.
About Skills Canada
Skills Canada was founded in 1989 as a national, not-for-profit organization with partner Skills Canada organizations in each of the provinces/territories that work with employers, educators, labour groups and governments to promote skilled trades and technology careers among Canadian youth. Its unique position among private and public-sector partners enables it to work toward securing Canada's future skilled labour needs while helping young people discover rewarding careers. Skills Canada offers experiential learning opportunities including skilled trades and technology competitions for hundreds of thousands of young Canadians through regional, provincial/territorial, national and international events, as well as skilled trades awareness programs. Headquartered in Ottawa, Ontario, Skills Canada is the Canadian Member organization of WorldSkills.
Follow Skills/Compétences Canada on Twitter, Facebook, YouTube, Flickr and Instagram.
MEDIA CONTACT: Michèle Rogerson, micheler@skillscanada.com, T. 343-883-7545 ext. 509.