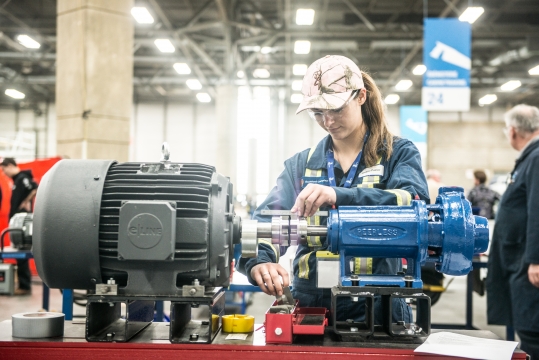 SCC welcomes new intitiatives to increase number of women in trades
(Ottawa, ON – February 28, 2017) Yesterday afternoon, the federal government tabled its 2018 Budget which included a variety of funding commitments geared towards skills development – a focus that was also seen in its prior federal budget.
"Relevant and continuous funding of skills development, and specifically investments in training for skilled trades and technology careers, is at the heart of a prosperous economy," said Skills/Compétences Canada (SCC) CEO Shaun Thorson. "We're glad to see the government show an ongoing commitment to skills-related initiatives."
Furthermore, SCC was pleased to see the government place particular attention to the existing gender gap in the skilled trades by implementing federal training programs focused on women. Many skilled trades careers, especially related to construction, are still heavily male-dominated.
Budget 2018 highlights related to skills include:
Apprenticeship Incentive Grant for Women
"To encourage women to pursue careers in male-dominated—and better- paid—Red Seal trades, and to ensure that women are increasingly able to model leadership to other aspiring female tradespeople, the Government is allocating $19.9 million over five years, starting in 2018–19, to pilot an Apprenticeship Incentive Grant for Women. Under the Grant, women in male-dominated Red Seal trades would receive $3,000 for each of their first two years of training (up to $6,000)."
Pre-Apprenticeship Program
"This program will encourage underrepresented groups—including but not limited to women, Indigenous Peoples, newcomers and persons with disabilities–to explore careers in the skilled trades. Working in partnership with provinces, territories, post-secondary institutions, training providers, unions and employers, the Pre-Apprenticeship Program will help Canadians explore the trades, gain work experience, make informed career choices and develop the skills needed to find and keep good, well-paying jobs in the trades."
The Government will provide $46 million over five years, starting in 2018–19, and $10 million per year thereafter, for the Pre-Apprenticeship Program.
Women in Construction Fund
"The Government will be launching the Women in Construction Fund in 2018–19, with an investment of $10.0 million over three years from Employment and Social Development Canada's existing resources. The Program will build on existing models that have proven to be effective in attracting women to the trades. These models provide supports such as mentoring, coaching and tailored supports that help women to progress through their training and find and retain jobs in the trades."
About Skills/Compétences Canada
Skills/Compétences Canada was founded in 1989 as a national, not‐for‐profit organization that works with employers, educators, labour groups and governments to promote skilled trades and technology careers among Canadian youth. For information on Skills Canada's programs and competitions visit www.skillscanada.com.
MEDIA CONTACT
Michèle Rogerson
343-883-7545 ext. 509