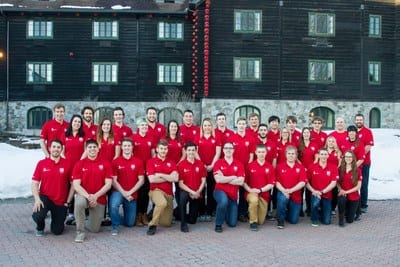 The members of WorldSkills Team Canada 2017 gathered in Montebello in preparation for WorldSkills Abu Dhabi 2017 (CNW Group/Skills/Compétences Canada)
OTTAWA, March 28, 2017 /CNW/ – The 31 official members of WorldSkills Team Canada 2017 recently gathered at the Fairmont Château Montebello, in Montebello, Québec to participate in team-building activities and mental preparation exercises as part of their training for WorldSkills Abu Dhabi 2017.
The WorldSkills Competition, held every two years, is the biggest vocational education and skills excellence event in the world that truly reflects global industry standards. This event will host 60 WorldSkills Member countries and regions, over 1,000 experts, and approximately 100,000 spectators including educational, government and industry leaders. The competition represents the pinnacle of excellence in skilled trades and technology.
The WorldSkills Team Canada 2017 competitors represent several regions across Canada, and were the top medalists at the 2016 Skills Canada National Competition (SCNC) held in Moncton, New Brunswick. Following SCNC, they completed their final qualification during the WorldSkills Canadian Trials, meeting pre-established Canadian standards in their respective sectors. At WorldSkills Abu Dhabi 2017, they will compete with more than 1,300 competitors for a chance to be named world champion.
Skills/Compétences Canada (SCC) would like to congratulate these competitors and wish them well at WorldSkills Abu Dhabi 2017: "The WorldSkills Team Canada 2017 competitors are the most talented youth in this country in the skilled trade and technology sectors," says Shaun Thorson, CEO of SCC. "They are tomorrow's workforce and will contribute to Canada's vibrant economy, ensuring its future prosperity in the global job market."
The 44th WorldSkills Competition will be held October 14-19, 2017, at the Abu Dhabi National Exhibition Centre (ADNEC), in Abu Dhabi, United Arab Emirates.
For more information on WorldSkills Team Canada 2017, check out the Twitter conversation at #WSTC2017 and on SCC's Facebook page. Follow their journey to WorldSkills Abu Dhabi 2017 and read their biographies at skillscompetencescanada.com. For more information on WorldSkills Abu Dhabi 2017, visit: worldskillsabudhabi2017.com.
SCC is pleased to introduce the official members of WorldSkills Team Canada 2017
Avery Bird, Mechatronics, Brighton, ON
Theodor Steven Willert, Mechatronics, Toronto, ON
David Lister, Mechanical Engineering CAD, Whitehorse, YT
Jonathan Adair, CNC Turning, Barrie, ON
Silas Meeches, CNC Milling, Winnipeg, MB
Andrew Christensen, Welding, Kamloops, BC
Vyolaine Dujmovic, Autobody Repair, Montreal, QC
Alexandre Sidorchuk, Aircraft Maintenance, Calgary, AB
Justin Reed Fisher, Plumbing and Heating, Lethbridge, AB
Judson Evan Thomas Foster, Electronics, Comox, BC
Jun Zheng, Web Design and Development, Saskatoon, SK
Daniel Nelson, Electrical Installations, Regina, SK
Ryley LaFrance, Industrial Control, Edmonton, AB
Pierre-Olivier Desmarais, Bricklaying, Montreal, QC
Brock Chiasson, Mobile Robotics, Yorkton, SK
Sean Furber, Mobile Robotics, Yorkton, SK
Scott William Dombowsky-Oneski, Cabinetmaking, Rocky View, AB
Sara Drainville, Hairdressing, Montreal, QC
Anne Matiowsky, Beauty Therapy, Kingston, ON
Gabriel Leblanc, Fashion Technology, Montreal, QC
Daphné Héroux, Pâtisserie and Confectionery, St-Hubert, QC
Aaron Taves, Automobile Technology, Camrose, AB
Victoria Peyton Hislop, Cooking, Calgary, AB
Ashley Gale Weber, Car Painting, Winnipeg, MB
Brandon Di Sabato, Landscape Gardening, Laval, QC
Marilou Morin, Landscape Gardening, Mirabel, QC
Ryan Matsuba, Refrigeration and Air Conditioning, Spruce Grove, AB
Kevin Couderc-Dubois, IT – Network Systems Administration, Boisbriand, QC
Kyla Henry, Graphic Design Technology, Regina, SK
Deanna Reynolds, Industrial Mechanics Millwright, Okotoks, AB
Tanner Chase Tendler, Heavy Vehicle Maintenance, Medicine Hat, AB
About Skills Canada
Skills Canada was founded in 1989 as a national, not for profit organization that works with employers, educators, labour groups and governments to promote skilled trade and technology careers among Canadian youth. Its unique position among private and public sector partners enables it to work toward securing Canada's future skilled labour needs while helping young people discover rewarding careers. Skills Canada offers experiential learning opportunities including skilled trades and technology competitions for hundreds of thousands of young Canadians through regional, provincial/territorial, national and international events, as well as skilled trades awareness programs. Headquartered in Ottawa, Ontario, Skills Canada is the Canadian Member organization of WorldSkills. For more information, visit www.skillscanada.com or call 877-754-5226.
SOURCE Skills/Compétences Canada
For further information: Michèle Rogerson, micheler@skillscanada.com, T. 613-266-4771.