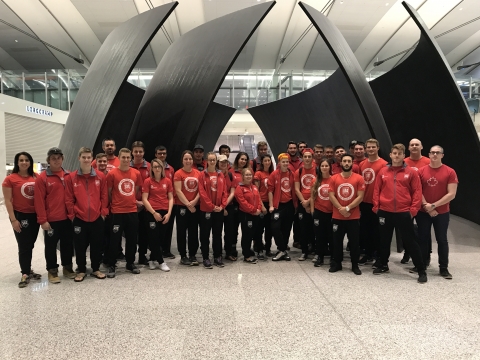 Minister Hajdu makes case for greater female involvement in the skilled trade and technology sectors through a short video release.
(Ottawa, ON – October 11, 2017) Today, on International Day of the Girl, Skills/Compétences Canada (SCC) is highlighting its nine outstanding female members of WorldSkills Team Canada 2017, who will depart for the United Arab Emirates this afternoon, along with the other 22 members of WorldSkills Team Canada 2017.
WorldSkills Team Canada 2017 is made up of 31 impressive young women and men from across Canada, between the ages of 16 and 24, who will be competing at the 44th WorldSkills Competition. The competition takes place every two years and is the biggest vocational education and skills excellence event in the world.
This year, 29% of WorldSkills Team Canada 2017 is composed of women. Through its many programs at the regional, provincial, territorial and national levels, SCC is committed to increasing the number of girls and young women who consider skilled trades and technology careers as many of these sectors are still heavily dominated by men.
To highlight the need for young women to enter these sectors, SCC released today a short video of a panel discussion between the Hon. Patty Hajdu, Minister of Employment, Workforce Development and Labour, and three accomplished young women who are currently working in a trade or technology field.
Panel participant Jennifer Green is a gold medal winner at the Skills Ontario Provincial Competition in 2008 and a silver medal winner at the 2008 Skills Canada National Competition, Jennifer, who is now employed as a Maintenance Planner for a school board, said that it's critical to bring more women into the trades, because that will empower more girls and young women to consider these careers.
"I was at first reluctant to compete when my college asked me to represent them – afraid I'd come in last and contribute to the stereotype of women not being able to do this type of work well," said Green. "But I eventually agreed to compete and ended up placing at the Skills Canada National Competition. Excelling in my trade ended up empowering me and changing my life."
In this  video, Minister Hajdu notes that her line of work – politics – is also male dominated as only 26% of Members of Parliament are women.
"When we have positions that are unusual for women," said the Minister, "it's our responsibility to show other women that there is a place for them and that they in fact can knock it out of the park, just like you three have."
About WorldSkills Abu Dhabi 2017
From October 14th to the 19th, 2017, 31 Canadian competitors will test their skills against more than 1,300 competitors from 60 Member countries and regions for a chance to be named world champion. WorldSkills Team Canada 2017 will be competing in 28 skill areas out of the 50 skilled trade and technology skill areas across a wide range of industries – from hairdressing to electrical installations; and from autobody repair to cooking. To qualify for WorldSkills Team Canada, each member successfully completed a rigorous trial process.
About Skills/Compétences Canada
Skills/Compétences Canada was founded in 1989 as a national, not‐for‐profit organization that works with employers, educators, labour groups and governments to promote skilled trades and technology careers among Canadian youth. For information on Skills Canada's programs and competitions visit www.skillscanada.com.
Watch the Skills Canada National Competition 2017 recap video
Watch the WorldSkills promo video
WorldSkills Team Canada 2017 Female Competitors
Anne Matiowsky, Kingston, ON, Beauty Therapy
Ashley Weber, Winnipeg, MB, Car Painting
Daphné Héroux, Saint-Hubert, QC, Pastry and Confectionery
Deanna Reynolds, Calgary, AB, Industrial Mechanics Millright
Kyla Henry, Regina, SK, Graphic Design Technology
Marilou Morin, Mirabel, QC, Landscape Gardening
Sara Drainville, Montréal, QC, Hairdressing
Victoria Hislop, Calgary, AB, Cooking
Vyolaine Dujmovic, Montréal, QC, Autobody Repair
MEDIA CONTACT
Michèle Rogerson
micheler@skillscanada.com
343-883-7545 ext. 509