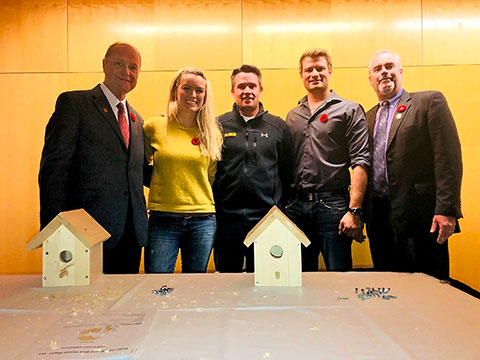 Ottawa, ON, November 7, 2017 – Skills/Compétences Canada (SCC) is proud to launch the 13th National Skilled Trades and Technology Week (NSTTW), aimed at creating awareness to students and educators of the incredible skilled trade and technology career opportunities available across Canada.
SCC, in partnership with Skills Canada Alberta, hosted the official launch of NSTTW on November 7th.  Malcolm Haines, Dean of Northern Alberta Institute of Technology's School of Trades, along with Aaron Taves, WorldSkills Team Canada 2017 competitor in Automobile Technology, John Oates, President of SCC and Kate Campbell from HGTV's Decked Out, Disaster Decks, Deck Wars and Custom Built, officially launched the event with an exciting birdhouse building challenge. Spencer Mottus, Western Regional Manager – Specialty Products, Stanley Black & Decker also participated as the judge for this challenge. In addition, The Honourable David Eggen, Minister of Education in Alberta attended the launch as a keynote speaker.
Following the official program, guests from industry, education, labour and government were invited to participate in an Essential Skills Work Ready Youth Program workshop, where they were introduced to the Essential Skills program through interactive activities geared to help improve Essential Skills for Canadian youth entering the workplace.
Skills Canada Alberta highlighted National Skilled Trades and Technology Week by hosting the second Skills Exploration Days on November 7 – 8, 2017. Junior high schools gathered at the Shaw Conference Centre for an authentic and meaningful skilled trade and technology career exploration experience. The students had the opportunity to participate in Learn-A-Skill stations while exploring their interests and passions as they learn about various career possibilities. With assistance from industry experts, students learned how to use tools, technology, and materials safely. They applied these newly acquired skills and knowledge to the construction of a prototype with tangible real-life tools and materials.
Skills/Compétences Canada also took the opportunity to announce that the 2018 Skills Canada National Competition will be hosted in Edmonton June 4 – 5, 2018 at the Edmonton EXPO Centre.
"Being innovative, developing technical skills and improving digital literacy better prepares youth for a career in skilled trades and technology occupations, which in turn benefits the Canadian economy. The goal of National Skilled Trades and Technology Week is to raise awareness of the skills required,  educational pathways and career opportunities in skilled trades and technology based sectors," said Shaun Thorson, Chief Executive Officer of Skills/Compétences Canada.
During the week, SCC's provincial/territorial member organizations will host a series of events to promote skilled trade and technology activities in Canada. For more information, visit the NSTTW webpage on the SCC website.
Also highlighted at the event was the importance of Thinking – Problem Solving, one of the nine Essential Skills identified as fundamental to entering the skilled trades and technology industries. Research by the Canadian Association of Career Educators and Employers indicates that analytical and problem-solving skills is one of the skills that is most valued by employers (Source: Globe & Mail, August 2017). For more information on the nine Essential Skills visit the Essential Skills webpage.
About Skills/Compétences Canada
SCC was founded in 1989 as a national, not-for-profit organization with partner Skills Canada organizations in each of the provinces/territories that work with employers, educators, labour groups and governments to promote skilled trades and technology careers among Canadian youth. Its unique position among private and public sector partners enables it to work toward securing Canada's future skilled labour needs while helping young people discover rewarding careers. SCC offers experiential learning opportunities including skilled trades and technology competitions for hundreds of thousands of young Canadians through regional, provincial/territorial, national and international events, as well as skilled trades awareness programs. Headquartered in Ottawa, Ontario, SCC is the Canadian Member organization of WorldSkills. For more information, visit www.skillscanada.com or call 877-754-5226.
Follow Skills/Compétences Canada on Twitter, Facebook, YouTube and Flickr.
-30-
Media Contact:
Michèle Rogerson
Telephone: 613-266-4771
Email: micheler@skillscanada.com