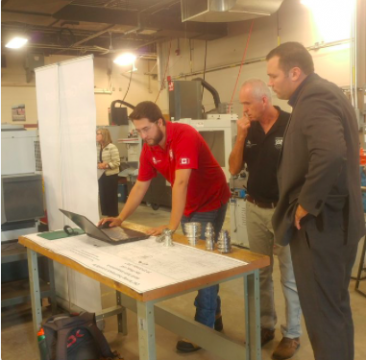 (Barrie, ON – September 17, 2017) Today, Alex Nuttall, federal Member of Parliament for Barrie—Springwater—Oro-Medone and Official Opposition Critic for Youth, met with constituent and WorldSkills Team Canada 2017 member Jonathan Adair, who will compete at WorldSkills Abu Dhabi 2017 this October in the CNC Turning contest.
"I feel that there are many lucrative career opportunities in the skilled trades and that is why I have decided to pursue a career in this field," said Adair. "In the future, I'd like to work in a shop where I can design and make parts for customers. Further down the road, I'd like to have my own business."
Adair, 20, was the gold medalist in CNC Milling at the 2016 Skills Canada National Competition in Moncton, New Brunswick. Jonathan is a recent graduate of the Mechanical Technician – Precision Skills program at Georgian College's Barrie Campus and is currently employed at Theta TTS Inc. in Barrie.
"Jonathan is an excellent example of a new generation of bright young minds that are passionate and dedicated, and just beginning to emerge into the workforce," said M.P. Alex Nuttall. "Our community is incredibly proud of his accomplishments, and we commend our local Georgian College and its staff for encouraging their students to pursue these opportunities, which in turn provides them with extra training and opens doors along their career paths."
WorldSkills Team Canada 2017 is made up of 31 outstanding young women and men from across Canada. To qualify, each member successfully competed through a rigorous selection process.
WorldSkills is the global hub for vocational skills. Every 2 years it hosts the world championships of skills, which attracts more than 1,300 competitors from 60 member countries and regions. Competitions are in over 50 skills across a wide range of industries – from joinery to floristry; from hairdressing to electronics; and from autobody repair to baking.
WorldSkills Abu Dhabi 2017 will be the first competition to be held in the Middle East. In parallel to the Competition, WorldSkills holds one of the most prominent Conferences in the sector. National ministers of education, as well as business and industry have been invited from all the WorldSkills member countries and regions. They will tackle pressing issues in this sector – global youth unemployment, the mismatch between skills and jobs, and the mobility of skills qualifications.
Read Jonathan Adair's WorldSkills Team Canada 2017 bio.
Watch the Skills Canada National Competition 2017 recap video
Watch the WorldSkills promo video