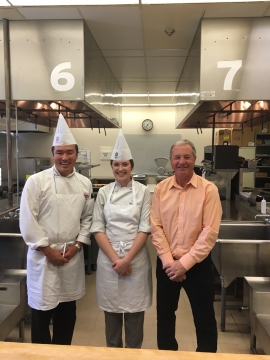 (Calgary, AB – September 14, 2017) Today, Calgary—Signal Hill Member of Parliament Ron Liepert met constituent and WorldSkills Team Canada 2017 member Victoria Hislop, who will compete at WorldSkills Abu Dhabi 2017 in October in the Cooking contest.
"I chose to pursue a career in cooking because of my interest in food and the restaurant industry. Since starting my program at SAIT in 2014 my passion for cooking has only grown," said Victoria Hislop. "I hope to travel the world to experience new cultures and learn to cook different types of dishes from my travels. I am thrilled to be a part of WorldSkills Team Canada 2017!"
Hislop, 20, was the silver medalist in Cooking at the 2016 Skills Canada National Competition in Moncton and was trained at the Southern Alberta Institute of Technology (SAIT) through its Professional Cooking Program. Victoria is currently employed at the Calgary Golf and Country Club.
"Victoria represents the best and brightest of Alberta and Canada, competing at the highest levels in her field, said M.P. Ron Liepert. "I am impressed by her work ethic and drive, and hope the young people of Calgary will be inspired to follow in her footsteps by considering a career in the many skilled trades and technology sectors."
In addition to Victoria, three other SAIT alumni are members of WorldSkills Team Canada 2017:  Alexandre Sidorchuk in Aircraft Maintenance, Scott Dombowsky-Oneski in Cabinetmaking, and Deanna Reynolds in Industrial Mechanics Millwright.
WorldSkills Team Canada 2017 is made up of 31 outstanding young women and men from across Canada – nine of whom are from Alberta. To qualify, each member successfully competed through a rigorous selection process.
WorldSkills is the global hub for vocational skills. Every 2 years it hosts the world championships of skills, which attracts more than 1,300 competitors from 60 member countries and regions. Competitions are in over 50 skills across a wide range of industries – from joinery to floristry; from hairdressing to electronics; and from autobody repair to baking.
WorldSkills Abu Dhabi 2017 will be the first competition to be held in the Middle East. In parallel to the Competition, WorldSkills holds one of the most prominent Conferences in the sector. National ministers of education, skills, industry and business have been invited from all the WorldSkills member countries and regions. They will tackle pressing issues in this sector – global youth unemployment, the mismatch between skills and jobs, and the mobility of skills qualifications.
Read Victoria Hislop's WorldSkills Team Canada 2017 bio.
Watch the Skills Canada National Competition 2017 recap video
Watch the WorldSkills promo video
MEDIA CONTACT
Victoria Anderson, Communications Coordinator
Skills Canada Alberta
780-405-3534
victoriaa@skillsalberta