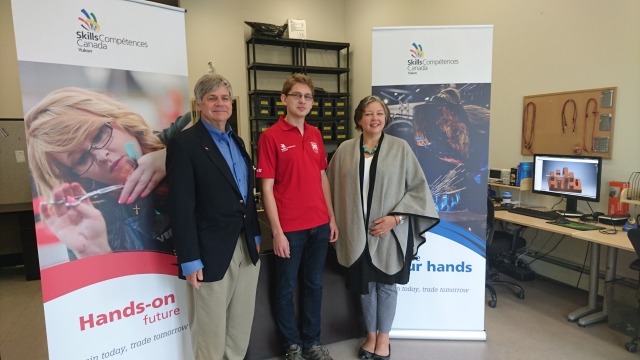 David Lister demonstrates his skills to Yukon elected officials
(Whitehorse, YT – August 30, 2017) Today, The Hon. Larry Bagnell, federal Member of Parliament for the Yukon, and Yukon Minister of Justice and Education, The Hon. Tracy-Anne McPhee, met with WorldSkills Team Canada 2017 member David Lister, who will compete at WorldSkills Abu Dhabi 2017 this October in the Mechanical CADD contest.
"I'm so proud to represent the Yukon and our country as a member of WorldSkills Team Canada 2017," said David Lister. "And today I'm grateful to meet with my territory's elected officials to tell them about the amazing journey I've had so far through the Skills / Compétences Canada programs – it has been life changing."
Lister, 21, was the gold medalist in Mechanical CADD at the 2016 Skills Canada National Competition in Moncton, and was recently a guest competitor at the Team UK Selection Event in preparation for Abu Dhabi. David is currently completing a Bachelors in Engineering in Engineering Physics at Carleton University in Ottawa.
"Developing Canada's youth is a priority. David's selection to the WorldSkills Team Canada, and his dedication to trade and technology, showcase not only what youth can achieve in the Yukon, but across the country," said The Hon. Larry Bagnell. "Competitions like WorldSkills enable private and public sectors to partner and help young people discover rewarding careers, and provide a chance to change the future for all of us."
"Yukon is incredibly proud to have David compete as a member of WorldSkills Team Canada 2017," said The Hon. Tracy-Anne McPhee. "It takes a lot of dedication and hard work to achieve this level of excellence, and the opportunity to represent Yukon on the international stage is extraordinary.  The Government of Yukon is pleased to partner with Skills Canada Yukon to support Yukoners to develop skills and pursue careers in trades and technology."
WorldSkills Team Canada 2017 is made up of 31 outstanding young women and men from across Canada. To qualify, each member successfully competed through a rigorous selection process.
WorldSkills is the global hub for vocational skills. Every 2 years it hosts the world championships of skills, which attracts more than 1,300 competitors from 60 member countries and regions. Competitions are in over 50 skills across a wide range of industries – from joinery to floristry; from hairdressing to electronics; and from autobody repair to baking.
WorldSkills Abu Dhabi 2017 will be the first competition to be held in the Middle East. In parallel to the Competition, WorldSkills holds one of the most prominent Conferences in the sector. National ministers of education, as well as business and industry have been invited from all the WorldSkills member countries and regions. They will tackle pressing issues in this sector – global youth unemployment, the mismatch between skills and jobs, and the mobility of skills qualifications.
Read David Lister's WorldSkills Team Canada 2017 bio.
Watch the Skills Canada National Competition 2017 recap video
Watch the WorldSkills promo video
MEDIA CONTACT
Tracy Erman
Executive Director
Skills Canada Yukon
tracye@skillscanada.com
(867) 334-9655