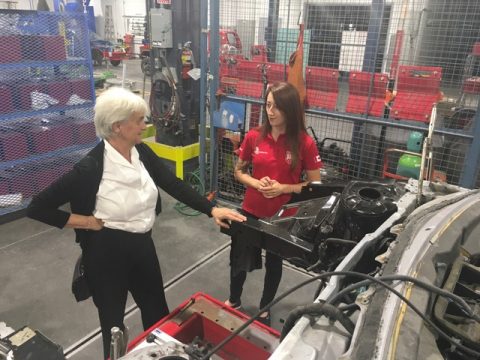 (Montreal – August 14, 2017) Today, Laurier—Sainte-Marie Member of Parliament Hélène Laverdière met WorldSkills Team Canada 2017 member Vyolaine Dujmovic, who will compete at WorldSkills Abu Dhabi 2017 in October in the Autobody Repair contest. Vyolaine graduated from l'École des métiers de l'équipement motorisé de Montréal which is located in the Laurier—Sainte-Marie riding.
"I'm so proud to be on WorldSkills Team Canada 2017 and be able to explain to Hélène Laverdière today the amazing impact the Skills/Compétences Canada programs have had on me, personally, and in terms of my career," said Vyolaine Dujmovic.
Dujmovic, 21, currently works at Fix Auto Henri-Bourassa, and was the silver medalist in Autobody Repair at the 2016 Skills Canada National Competition in Moncton. This summer, Vyolaine participated at WordSkills China in Shanghai in preparation for WorldSkills 2017.
"I am so glad to meet Vyolaine and learn more about her incredible journey as an Autobody Repair competitor," said Member of Parliament Hélène Laverdière. "Vyolaine is not only an excellent example of a young, brilliant and conscientious professional, but also of an inspiring woman who is making her mark in a male dominated trade. We can all learn from her experience, and I look forward to following her progress in Abu Dhabi and beyond."
WorldSkills Team Canada 2017 is made up of 31 outstanding young women and men from across Canada – 8 of whom are from Québec. To qualify, each member successfully competed through a rigorous selection process.
WorldSkills is the global hub for vocational skills. Every 2 years it hosts the world championships of skills, which attracts more than 1,300 competitors from 60 member countries and regions. Competitions are in over 50 skills across a wide range of industries – from joinery to floristry; from hairdressing to electronics; and from autobody repair to baking.
WorldSkills Abu Dhabi 2017 will be the first competition to be held in the Middle East. In parallel to the Competition, WorldSkills holds one of the most prominent Conferences in the sector. National ministers of education, as well as business and sector leaders have been invited from all the WorldSkills member countries and regions. They will tackle pressing issues in this sector – global youth unemployment, the mismatch between skills and jobs, and the mobility of skills qualifications.
-30-
Read Vyolaine's WorldSkills Team Canada 2017 bio.
Watch the Skills Canada National Competition 2017 recap video
Watch the WorldSkills promo video
MEDIA CONTACT
Jean-Rock Gaudreault
Compétences Québec
514-864-2206
jrgaudro@competencesquebec.com