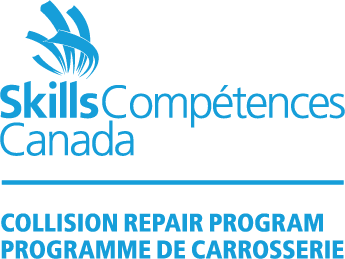 About  Contact Us Events Sponsorship Career
There are many fun and exciting career opportunities in the Collision Repair Industry. We are looking for energetic, talented young people that have a passion for cars, are interested in technology, and want a career that offers opportunities for advancement and continuous learning.
What types of opportunities are available within Collision Repair Facilities ?
Damage Appraiser – assess damage caused by collisions, determine correct repair procedures, create computerized estimate, communication
Licensed Autobody Technician – assess damage, measure and repair structural damage, review computerized vehicle specifications, repair or replace dented and damaged vehicle parts
Automotive Prepper – prepare automotive surfaces for painting
Automotive Painter – colour matching, mixing paint, applying waterborne basecoat and clearcoat, operation of paint booth
Automotive Detailer – prepares vehicles for delivery to customer, final inspection for quality, polishing, pinstriping, decal application
Customer Service Representative – manage customer and insurance company relations, invoicing
Manager – many positions such as parts manager, production manager, office manager, general manager
Once you are working in the Collision Repair Industry you may progress from one position to another. Often managers or business owners started out as technicians and learned new skills on the job. The salary range of someone working in the Collision Repair Industry can range from $40,000 for entry-level employees to over $100,000 for skilled, experienced employees.
Related Career Paths
There are many opportunities in related fields that look to the collision repair industry for talented people. The skills and knowledge acquired from working within a collision repair facility are essential for these related positions:
Insurance Companies – appraisers, managers
Paint Manufacturers – technical representatives, sales, training, managers, marketing, communications
Equipment Manufacturers – sales, installation, service, manager
Computer Software – sales and service, manager
Parts suppliers – customer service, sales, technical support, manager
Distribution – sales, purchasing, customer service, accounting, manager
Not-for-profit organizations – training, public relations, government, health and safety
Automotive Repair – mechanical technicians, glass installers, managers, customer service
What kind of skills would I need ?
Careers in collision repair are exciting and challenging. Vehicle technology is constantly changing and becoming more advanced. Your career in collision repair will offer the opportunity for continuous learning and skill development.
Positions within a collision repair facility require the following skills:
Pride of workmanship and creativity
Reading and document use
Numeracy and Measurement
Written and Oral Communication
Working with Others
Problem Solving and Analytical Skills
Computer Use
Continuous Learning
Where can I develop the skills I need to succeed?
There are many opportunities for education in the Collision Repair Industry at different levels. Starting in high school, students can start to learn basic skills and get some hands-on experience. Students will learn the advanced skills needed for success as they progress to higher levels of education such as college, apprenticeship and on-the-job advanced training.
High School – Many schools offer beginner-level training in Autobody repair and painting
College – Autobody repair and automotive painting
Apprenticeship – On-the-job training by experienced licensed technicians. Students register in an apprenticeship program to achieve provincial certification.
Industry Specific – There are training courses offered by paint, equipment and product manufacturers and computer software providers. Safety training, computer training and management training is also available.
Click the link below to explore in more detail, the technical positions that are available in the collision repair industry: